Group 4 -- B.A.L.K.S (Group 4) -- Brianne, Anum, Laureen, Kim, Sara
From wiki.ucalgary.ca
Wii
Introduction
The Nintendo Wii has brought a whole new level of technology into gaming. It's innovative construction makes for a very beneficial gaming system. It has educational benefits such as developing hand-eye coordination, and the practice of music, and cooking. It's health benefits include encouraging people to be more active, and having games geared especially for workouts. Another benefit of the Wii is the social impact that it has on people of all ages. It brings people together for an enjoyable time, and anyone can play, even without experience.
Argument
The social, educational, and health benefits for people of all ages gained from the playing the Nintendo Wii.
Mental Benefits
The educational benefits of the Nintendo Wii include learning various musical skills and sports movements, along with basic motion skills. The Wii is often used as a rehabilitation tool in order to help people with injuries or disabilities improve their mental well-being along with their health.

The basic improvements that Wii allows a person to practice are quicker decision-making skills, and better coordination through learned and repeated actions. Comprehension skills are also necessary for players, because they need to be able to interpret and understand various situations quickly and decide what needs to be done in order to be successful. Making these quick decisions with little instruction improves the players ability to make decisions and allows them to think critically, more quickly.

Rehabilitation is another educational benefit that Wii provides. Many veterans from the Iraq War are using Wii instead of more classic methods of rehabilitation. Instead of more dull, repetitive types of therapy, such as sitting with a stress ball and talking, many patients now use Wii. This game connects with the user's inner competitiveness to encourage mental stimulation, by increasing mental stamina and focus. These types of benefits are also being experienced by adolescents who are afflicted with disabilities. Currently a major study on children with cerebral palsy and autism is taking place, which is used to show the benefits these children can get from using Wii. In as little as five weeks into these studies the therapists of the children were seeing improvements in the childrens' fine motor skills and visual perception. Another mental benefit of Wii is for people who are practicing to become a surgeon. It has been shown that if before a surgery, the student plays a Wii game that requires delicate motion control for an hour, they show 48% better scalpel control than the other potential surgeons.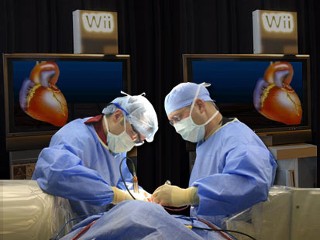 Other than the benefits from playing Wii that lead to mental enhancement, the games being played are also of educational value. Games can be bought that provide mathematical or reading types of activities that children find more interesting due to the higher degree of interactivity. This in turn encourages them to play the game more often, thereby learning the information that is contained in the game. Also games that are based on cooking, music or memory activities give children a way to easily learn a large amount of new information. The games also encourage memory work that is an important part of a person's mental health.
Health Benefits
In the United States, 58 Million are considered to be overweight, 40 million are obese, and 3 million are abnormally obese. In a recent study, it was found that 80% of all Americans over the age of 25 are considered overweight. About 3/4 (78%) of Americans are not getting an adequate amount of exercise in their daily life. In Canada in 2001, 47.7% of Canadian adults were overweight. In 2004, 58.8% were overweight. Today, Statistics Canada has reported that 2/3 adults are considered overweight. Over half of the children in Canada are not getting the necessary exercise required to fully develop.
The above figure shows the overweight and obesity percentages of the United States, Australia, Canada, the UK, France, and Japan in decreasing order.
A study was done at the Liverpool John Moores University that found that the playing of active games with the Wii Remote and Nunchuk can make an individual lose up to 27 pounds per year. The study also found that the use of the Wii remote increased the user's heart rate and energy expenditure. With the use of a traditional gaming console, a player's energy expenditure increase is 60%, and the user's heart beats per minute (BPM) is 85. With the use of the Wii remote, the energy expenditure increase is 156%, and the gamer's BPM is 130.
Two hospitals in Lancashire have introduced Wii Fit into their Physiotherapy Departments. This was done to help aid in the rehabilitation of younger patients. Children often find physiotherapy to be an uncomfortable process. The introduction of the Wii helped use 'play' or 'diversion' techniques to help the young individuals overcome the discomfort. The introduction of the Wii Fit has brought fun and excitement to an otherwise routine process. The reviews of the introduction of this product to the physiotherapy departments were overwhelmingly positive. Doctors claim that it was a 'fantastic innovation for physiotherapy'.
Researchers at the University of Toronto have developed a video game to help aid in the recovery of children suffering from cerebral palsy. Cerbral palsy is a condition where one side of the body is paralyzed, and virtually unusable. The video game forces patients to use both their hands, helping speed up the recovery process and return feeling to the otherwise useless part of the body. The movements done while playing the game are similar to those that are done in physiotherapy. The game allows children to help themselves at home, while playing the game with friends and family.
Other Benefits
The Nintendo Wii is a great way for people of all ages to interact with each other. It is popular with kids, teenagers, adults and even elderly people. The Wii is unique in a way that it can be played by experienced and inexperienced gamers. It is a great way to for children to interact with their parents and grandparents. Since children and teens are more familiar with technology, and gaming, they can teach their elders how to play the game. When playing the Wii they are spending time that they would usually with their friends, or by themselves, with their parents instead. It is a positive experience to learn a new game together and enjoy quality time together.
Nintendo Wii's have become very popular amongst seniors. They are being used frequently in retirement homes to improve function and prevent disability. It is a great way to let seniors interact with sensory stimulation in a fun way instead of just walking or doing arm exercises. Seniors can play games such as boxing, tennis, golf and bowling without stressing their bodies so much that they are doing more harm then good. Providing senior citizens with a fun alternative to exercise not only stimulates their body but their minds as well. The hand eye coordination needed to play games on the Wii is a great way to stimulate their brains. Elderly people can now get a work out in a fun way because the Wiimote has digital sensors and is cordless so games can be played virtually with the motion of ones hands. The Wii is also relatively inexpensive compared to other therapeutic programs that have been available to seniors, which is a major bonus.
Another major bonus of the Wii is that the controls are very simple to use and don't have as many confusing buttons as their competitor games. Gaming is interactive, easy and fun without any complications for new users. Nintendo was able to attract new and old users to the Wii because it is easy to use and features classic games that were originally played on Nintendo.
Here is a graph showing the popularity of the Wii compared to previously made Nintendo games:
Negative Side-affects
Conclusion
Sources
Sara
1. http://www.todaysthv.com/news/education/story.aspx?storyid=75252
2. http://www.austinchronicle.com/gyrobase/Issue/story?oid=oid%3A597187
3. http://www.rehabpub.com/news/2008-09-25_02.asp
4. http://blog.wired.com/games/2008/01/report-surgeons.html
5. http://www.computerandvideogames.com/article.php?id=193611
6. http://wistechnology.com/articles/1193/
7. http://www.leatherneck.com/forums/showthread.php?t=60756
8. http://www.webpronews.com/topnews/2008/01/17/wii-makes-surgeons-better
9. http://en.wikipedia.org/wiki/Wii_Music
10.http://www.myomancy.com/2008/09/autistic-children-like-to-wii
Brianne
1. http://strengthdoc.blogspot.com/2008/03/wii-dont-fall.html
2. http://ezinearticles.com/?Nintendo-Wii---Gaming-For-All-Ages&id=823079
3. http://kclsgamers.wordpress.com/2008/08/19/wii-fest-for-all-ages/
4. http://www.articlesnatch.com/Article/Wii-Music-Released-For-All-Ages/424595
5. http://ezinearticles.com/?New-Wii-Fitness-is-Not-Just-For-Kids---People-of-All-Ages-Can-Enjoy-It!&id=1662671
6. https://www.mywii.com.au/NewsDetail.aspx?id=998
7. http://wcco.com/health/nintendo.wii.therapy.2.373130.html
8. http://www.therapytimes.com/Rehab_Patients_Stay_Spry_with_Nintendo_Wii/content=0402J84C48968286406040441
9. http://wii-availability.sampasite.com/blog/Some-Quick-Wii-Statistics.htm
Laureen
1. http://www.aph.gov.au/library/INTGUIDE/sp
2. http://www.annecollins.com/obesity/statistics-obesity.htm
3. http://www.medicalnewstoday.com/articles/126359.php
4. http://www.parl.gc.ca/information/library/PRBpubs/prb0511-e.htm
5. http://www.hc-sc.gc.ca/hl-vs/iyh-vsv/life-vie/obes-eng.php
6. http://www.wiihealthy.com/news/study-wii-playing-kids-lose-weight/
7. http://www.time.com/time/business/article/0,8599,1584697,00.html