CPSC203 2008Fall T19 Group3
From wiki.ucalgary.ca
Group Information
Tutorial 19
TA- Mohammad Jafari
Group 3
Team members:

Shanna Chew
Emily Fu
Joel Wagner
Argument:
Youtube has become a social phenomenon. The problem is... has this massive video-sharing website created more social problems for us than it's worth?
History
Creators
YouTube was created in 2005 by three people; Chad Hurley, Steve Chen, and Jawed Karim all of whom were previously employed by paypal. Chad Hurley grew up in Pennsylvania and attended Indiana Unisversity of Pennsylvania where he received a B.A. of fine art. Steve Chen grew up in Taipai, and emigrated to the Unites States when he was 8 years old. He attended the University of Illinois at Urbana-Champaign where he studied Computer Science. Jawed Karim grew up in West Germany and moved with his family in 1992. He also studied computer science at the University of Illinois at Urbana-Champaign.
How it Started
In January 2005; Chen, Karim, and Hurley tried to send videos of a dinner party via email, when the emails were being rejected because of the large size of the videos. They also had trouble posting the video online, and wanted to create an easier way of sharing the video with friends. Thus YouTube was founded in February 2005 and went online for a public preview on May 5th, 2005. The first videos contained Chen's cat, and Chen and Hurley hanging out in their garage. During November of the same year, YouTube received 3.5 million dollars in funding from Sequoia Capital. The following month, YouTube was finally launched using Adobe Flash Video technology to present a number of video clips of various types uploaded by many users. The ease of uploading videos made YouTube very user friendly.
Early Success
YouTube became incredibly popular in 2006 and even outpaced MySpace (according to Alexa.com) as it became one of the fastest growing websites. In April, Sequoia raised an additional 8 million dollars for YouTube. On May 10 2006, YouTube launches a service which allows mobile phones to upload video content. This service was a success as the evidence lies in the large amount of video clips on YouTube that have been recorded from a mobile phone. By July of that year, 100 million videos were viewed daily and 65000 videos were being uploaded every 24 hours. YouTube was becoming a video juggernaut. Videos ranged from sports highlights, to ways of expressing art (time elapse photography). On August 16th 2006 Steve Chen one of the founding members of You Tube expressed that one the company's major goals was to have every music video in the world in its video database within the next 18 months. Various music companies have made deals with YouTube which has strived to achieve this goal. Warner Music and MCPS-PRS Alliance are among those companies.
In November of 2006, in one of the largest transitions ever made, Google bought the YouTube's stock for 1.65 billion dollars. At that time, according to the research firm Hitwise, YouTube owned 46 percent of the online video market. Prior to the purchase, YouTube reportedly earned approximately 15 million dollars per month in advertising. After the purchase YouTube would still operate independently, keeping all current employees, and the title YouTube. This extreme growth occured in less then two years of existence.
2007 and 2008 Growth
In January 2007, YouTube announced plans to pay active users whom are true copyright owners, Warner Music whom was previously mentioned, is among users who will be paid for submitting music videos. In March, the "Video Empire" made a deal with the British Broadcasting Corporation (BBC) that gave the BBC three Channels on YouTube. These Channels, which allow a person or group to post content on a certain topic such as politics, have become increasingly popular, as they allow certain users to develop a YouTube identity. June 15, 2007 saw YouTube create its first mobile sit, to go along with the mobile phone feature.
The following March, the worlds largest video site, created create a new feature allowing some of its content to be viewed in a higher quality. This allowed the videos to be presented in 480x360 pixel format, rather than the old 320x240 pixel format. Sound quality also improved with these upgrades. During this month, bandwidth costs of YouTube were estimated at one million dollars US per day. These costs would be covered by YouTubes advertisements, which bring in $175,000 a day, just for having your advertisement on the front page alone. An additional $50,000 was to be spent on Google or YouTube for committing to these advertisements.
During the summer of 2008, in less than three years of existence YouTube was receiving one billion views a day, as reported by Forbes Magazine. Also reported during this summer was that YouTube had over 77 million individual viewers. This incredible number of users leads all video websites. From January 2008 to July 2008 YouTube viewer ship increased by 17.6 % (both figures from Nielsen Online Reports). The growth of YouTube should continue, as more and more aggreements with powerful companies develop. The large amount of users (roughly 77 times the size of Calgary) will more than likely maintain incredible growth.
YouTube Format
Here are a few images that show the design of YouTube throughout it's history: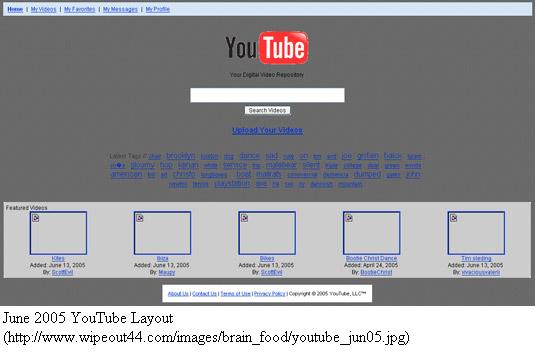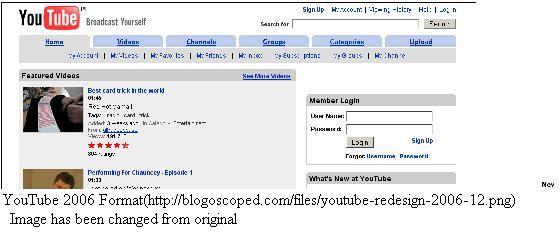 Criticism:
Because of Youtube's easy to use interface and phenomenol popularity, there is almost no limit to what type of videos one can access. Anything, from every single music video ever made, interview clips of your favorite band, trailers, make up tutorials, and even the solution to solving the Rubix cube, can be found simply by typing a few keywords into the search engine. Everyone loves Youtube; it's convenient, super fast, and even commercial free. So inevitably, a site of this nature will run into a couple of problems.
Copyright Infringement
The freedom of users to upload all sorts of content onto Youtube has also led the site to face legal inconveniences. In the past, large organizations such as Viacom (which owns several television U.S. networks including MTV, VH1, Nickelodeon, Comedy Central and Spike TV) has filed lawsuits against Youtube for not doing enough to prevent copyrighted materials from surfacing on Youtube. They stated in their complaint that over 160,000 unauthorized clips from their programming can be found on Youtube, which have been viewed over 1.5 billion times. Other large media companies such as BBC, CBS, and record labels have requested that Youtube remove content taken from them. For record labels, it is a harsh hit for artists when their unreleased material leaks onto the net, then posted on Youtube where it can be accessed internationally, thereby harming their reputation.

""YouTube is a significant, for-profit organization that has built a lucrative business out of exploiting the devotion of fans to others' creative works in order to enrich itself and its corporate parent Google," Viacom said in a release.
"Their business model, which is based on building traffic and selling advertising off of unlicensed content, is clearly illegal and is in obvious conflict with copyright laws," the New York-based company said.
In its suit filed in U.S. District Court for the Southern District of New York, Viacom called for an injunction prohibiting Google and YouTube from further use of its clips."
To this, Youtube replies that they are only an internet service provider; they are not liable or held responsible for what their users do on the site. Youtube only acts as a host, while users upload whatever they want.
Lawyers who have filed lawsuits against Youtube have also said that the most trafficked website on the internet induces infringement. However, Youtube is known for taking down infringing content when notified, along with capping video lengths, which shows that they work to stop infringement.
Political controversy in Countries
Many countries even have or have had a nationwide ban on Youtube because of controversial videos regarding religion, or towards a political figure. Some examples include:

Morocco: for videos that mock the Moroccan King, but have lifted this ban in 2007
Thailand: Similar reasons; the site hosts videos that mock the Thai King.
Turkey: A court in Istanbul issued a short-lived order to block YouTube because of videos offending Ataturk, the founding father of the Turkish Republic
Iraq: An unconventional situation. The citizens of Iraq an access the website, but the US military forces residing there cannot as an order from the Pentagon. Probably

due to controversial videos of the war, or preventing soldiers from posting controversial videos.

Brazil: as an order when model Daniela Cicarelli 's sex stunt on the beach was posted on Youtube. The ban was short lived, but all the same, this shows how all kinds

of videos can get on Youtube, therefore causing discontent among those concerned.
On a side note, despite Youtube's efforts to withdraw the Brazilian model's video tape, it still appeared on Youtube under varying names and links. Needless to say, when this happens, it is extremely difficult to change.
Explicit Material
Because of such a large interface, another difficult area to moderate is the availability of explicit material on the site. Although in forbidden to upload material likely to be considered inappropriate on the site's terms of services, it's inevitable that lapses of explicit and offensive material will occur, especially due to Youtube's inability to check all videos before they go online. Instead, Youtube relies on the users to flag videos that are inappropriate, where a member of staff will then review the video and act accordingly.
Videos considered inappropriate are also restricted for viewing of those who are of 18+ years. However, how easy is it for one to create an account with a fake birthdate? Youtube has faced all of these type of critical questions. However, overly explicit materials are always usually removed almost immediately. As well, all of these problems are issues in which will always be present in the internet world, where YouTube is definitely one of the lesser concerns.
Political Campaigning
"Lets give a welcome to Macaca, here. Welcome to America and the real world of Virginia."
This statement made by then-Virginia Republican Sen. George Allen's whose controversial remark to a young campaign aide working for Allen's opponent, Democrat Jim Webb, became the most talked about in the 2006 campaign. Allen was expecting to cruise the re-election, but in part due to the Youtube video, he had lost just a thousand seats to opponent.
These "Got-cha" moments caught on video, as well as hard hitting debate questions form Youtube users is greatly changing the political landscape. This creates a broad new challenge for candidates, where they must really be able to control their message ever more so. A slip from candidates, in which they may not have meant, will be instantaneously uploaded for all to see. The problem is,"Will candidates be pushed further into a scripted bubble? In short, will YouTube democratize politics, or destroy it? Matthew Doyd, former strategist for President Bush says he sees a future where candidates must be camera-ready before they hit the road, rather than be a work in progress. "What's happened is that politicians now have to be perfect from Day 1," he said. "It's taken some richness out of the political discourse."
On the flip side,"I think it really breaks down some of the traditional barriers we have seen in American politics," Steve Grove, head of news and politics at YouTube, told CNN's John King Monday. "Time was, if you wanted to engage in a primary debate process, you had to be in New Hampshire or be in Iowa."
For Allen, that short Youtube video viewed millions of times, will see to the consequences of that little remark. Not to mention that he's also lost any immediate chance for re-election.
Sarah Palin is another example of a politician who was hit quite hard by videos on Youtube. Short clips of SNL featuring Tina Fey who posed as Palin were found all over Youtube, where she is seen doing great, down-to-the-accent imitations of the VP nominee. In other words, she made impressive mockeries of Palin. In the way Tina Fey does it, it amplifies Palin's absurdness. And don't forget that horrible interview with Katie Couric, where Palin was hopelessly ripped inside-out. To top it off, users of Youtube also got a kick of creating extremely sexy and extremely humiliating videos of Palin, their own interpretation of the VP nominee. For the people who do not often watch the news, Youtube is really where they get their impressions.
Because of Youtube, those moments will probably Never be forgotten, a consequence in which they will see far into their career.
Positive Impact
Social Impact
The term Social Impact "refers to how an organization's actions affect the surrounding community". Now, in today's society, the growing popularity of video sharing has turned YouTube into a community of its own, with nearly 79 million users and over 3 billion video views. Although there are few statistics available about YouTube, it is estimated that in 2007, the website consumed as much bandwidth as the entire internet in the year 2000, with over 13 hours of video uploaded every minute.
The reason behind YouTube's popularity is most likely due to its easy to access and use interface. Almost anyone who has some knowledge about how to use a computer can upload, view, and share videos with anyone around the world. Because of this large user base, the wide variety of video categories available has added video sharing as an important component of today's cyber culture.
YouTube's appeal extends beyond the average computer user, attracting the mainstream media, music and video companies, and even prominent political candidates. Through video sharing, several average people have been signed record deals, show appearances, or have even become "famous" as internet memes.
People Made Famous
Once a video has been uploaded, it can be viewed by anyone internationally so long as they have internet connection and access to YouTube. Because of its worldwide popularity, it comes as no surprise that numerous people have found their "way to fame" through video posting. Some examples include:
Peter Oakley, also known by his username "geriatric1927" has been posting a series of autobiographical videos called "Telling it all" since August 2006. These five-to-ten minute videos quickly gained Oakley international popularity, helping him rise to the #1 position of "Most subscribed user" in 2006. His videos have been reported by international media outlets, online news sources and blogs, and Peter has even been interviewed on BBC's "The Money Programme" which was aired on February 16th 2007.
LonelyGirl15 was a web-based video series focusing on the fictional life of a teenage girl named Bree. The show ran from June 2006 until August 2008 and had more than 110 million views. The video series achieved massive popularity throughout the YouTube community, which attributed to its 4th place finish in YouTube's "Best Series" category. LonelyGirl also created an alternate reality game, was spoofed by Carmen Electra in "Epic Movie" and was originally reported in the New York Times Magazine. The American-New Zealand Actress playing the main character of the show, was featured on the cover of "Wired" magazine, and had several recurring roles in the first episodes of ABC's show "Greek". Since the finale of the LonelyGirl series, the CAA (Creative Arts Agency) created LG15 studios in order to produce original interactive online content. This later morphed into EQAL, Inc. with a $5 million venture capital.
Chad Vader- Day Shift Manager is a fan-film series originally created for "Channel 101", but was cancelled after the first two episodes. Created by "Blame Society Productions", Chad Vader consists of 8 episodes featuring the life of a day shift manager highly resembling Darth Vader. The series was rated #1 on YouTube's "Best Series" category, and is even translated into 5 different languages with its own DVD and merchandise line. The creators of the series were personally selected by George Lucas for "Best fan movie of the year" during the "Official Star Wars Fan Film Awards" of 2007. Chad Vader has also appeared on the cover of "Isthmus Magazine" and episodes 1-4 appeared on ABC's "Good Morning America".
Other notable mentions:
Marie Digby – Signed by Hollywood records, and was asked to play on "Star 98 Radio LA". Digby also performed on the "Carson Daly Show" and her song was featured on the MTV show "The Hills".
Amber Lee Ettinger – for her song "I got a Crush... On Obama" gained popularity and appeared on various American news sites, ABC's show "iCaught" and her fame even helped her get into modelling, leading to Playboy's "Babe of the Month" title.
Esmee Denters- singing "What Goes Around". Since she started performing her own music, she quickly gained fame through the YouTube community. Since her debut, she has appeared on Dutch TV shows, performed with Justin Timberlake, and was signed by "Tennman Records"
Tom Dickson is the CEO of "Blendtec" and started a video series featuring the blending of unusual products such as IPods. The series was entitled "Will it blend?" and has led to his own line of merchandise, an appearance on the "Tonight Show" with Jay Leno, and "KDRF" radio in Mexico.
Liam Kyle Sullivan- Since his debut on YouTube, this comedian/actor has made appearances on TV shows like "Gilmore Girls", "8 Simple Rules" and "Alias". He is now star in the popular VH1 series "I hate my 30's", featured in a skittles commercial, and even has his own album.
Andy McKee signed up with "CandyRat" records and is currently on a world tour to promote his music and other YouTube songs that made it big. He contributes his success to his video postings which gained over 10 million views.
Band and Music Promotion
YouTube's versatility and ability to reach almost anyone in the world make it a prime resource for Bands and singers to promote their new music. Some examples include:
Ok Go who, on July 31, 2006 released their music video for "Here it Goes Again" on YouTube, featuring a complicated and elaborately choreographed dance on treadmills. The video got over one million hits in the first six days, and was placed 5th for "most favoured Video of all time". Since then, Ok Go performed for the "MTV Video Music Awards" and became a huge radio hit.
The Free Hugs Campaign featuring music by the "Sick Puppies". The video on YouTube led to immediate fame for both the campaign and the band. The creator of the campaign, Juan Mann, was invited by Oprah Winfrey to appear on her show after the producer's doctor saw the video on YouTube.
Singer/Songwriter Tay Zonday for his composition of "Chocolate Rain". The video became popular as an internet meme and gained over 30 million views leading this young 25 year old to mainstream exposure. "Chocolate Rain" was ranked hottest viral video of summer 2007 by CTV.ca, number 2 video in the world by Utalkmarketing.com, while clips and references to the video have been featured on "South Park", G4TV's "Attack of the Show", "Last Call" with Carson Daly, "The Daily Show" with Jon Stewart, "Jimmy Kimmel Live", BBC's Radio1 "Chris Moyle's Show" and more recently, Zonday performed on the "Lilly Allen and friends" show. On November 28, 2007, a spoof of the original "Chocolate Rain" was released titled "Cherry Chocolate Rain" which was created as part of a promotional campaign for "Cherry Chocolate Diet Dr Pepper".
Rick Astley and his performance of the song "Never gonna give you up". Although the song was originally recorded for his 1987 album, "Whenever You Need Somebody" it was used as an Internet April Fool's Joke on YouTube. The video was a bait and switch; in which a person provides a web link to something else, but they get re-directed to Astley's video. It became an internet meme, where the person fooled is said to have been "Rickrolled". Although Astley didn't do this himself, the song is now world renown gaining Rick Astley international recognition.
The very first YouTube Live is scheduled to premiere on November 22, 2008, which features some YouTube celebrities including the Black Eyed Peas rapper, Will.I.Am, and the new singer/songwriter Katy Perry.
Political Campaigning
During the 2008 US Presidential elections, Political candidates utilized the popularity of YouTube as an outlet for advertisement. Not only were there several political campaign statements all over the website, voters had the opportunity to create videos either supporting or opposing the potential candidates.
This trend not only occurred in the United States, but it is recorded that French and Italian politicians have been campaigning through YouTube videos, and the site has even been used in the 2007 Federal election by Australia's former prime Minister John Howard.
Since this emergence of political use of YouTube, several political commentators have subscribed and posted videos of their own, using the website as a medium for getting their opinions heard by the public. Along with them, Queen Rania of Jordan has her own YouTube channel that is solely dedicated to "breaking down stereotypes about the Arab and Muslim worlds"
The 2006 defeat of Republican Senator George Allen is claimed to be due to a video clip of the politician calling an Indian college student a "Macaca" which is allegedly a racial slur. The video was continuously replayed by YouTube viewers during the time of the campaign and many U.S. media sources claim it was the main reason for his downfall. The NewYorkTimes remarks, "When politicians say inappropriate things, many voters will want to know. Now they can see it for themselves on the Web." Now with today's web technology and popularity with web sources like YouTube, people in the public eye are going to have to watch themselves more closely than before.
We Conclude That...
As with any other thing really, Youtube has both positively and negatively affected our society. Regarding the particular issues we've presented though, however, we believe that Youtube has done greater good than harm for us, as long as we all cooperate to make Youtube fun and friendly. As said before, Youtube is just a host for video sharing, so ultimately, whether Youtube is a good or bad attribute will fall in our hands.
Youtube's widespread popularity and super user-friendly interface has reached many young voters who would never otherwise have been interested, and can be very informative. Endless amounts of diverse news clips are be accessed easily as opposed to watching a whole hour of prime time news to catch a snippet of what you really want to see. And if you missed the vice presidential debate between Palin and Biden? No problem, Youtube can easily remedy that.
References
Shanna Chew
Emily Fu
Joel Wagner