T16 Group1
From wiki.ucalgary.ca
Technology
Blog and Forum
Group Members
Braden, Shannon, Wei.
Introduction
A blog is described on dictionary.com as being "an online diary; a personal chronological log of thoughts published on a Web Page", which is as accurate as a description as you can get. For our project we will be discussing where blogs came from, where they are today as well as issues that face the blogging communities and the best way to prevent these problems. We will also lightly discuss forums as they are closely related to blogs.
History
The concept of blogging was first introduced in 1992 by Sir Tim Berners-Lee. Berners-Lee is an English computer scientist credited with inventing the World Wide Web. When this phenomenon was first coming into popularity; Berners-Lee had a website that kept track of any new website as they came online. Although these days we wouldn't recognize this as a blog per say, it still involved action in daily updating by an individual. Just a year later in 1993, The National Center for Supercomputing Applications composed a site that sorted entries by date and also provided commentary. Still, this is not considered a blog today; but it does bring us closer to what Justin Hall did on January 10, 1996.

Justin Hall is considered to be the first "blogger" of our time. His site "Justin's Home Page" consisted of links and reviews of other sites, and later on an online journal. One of his first posts said "Some days, before I go to bed, I think about my day, and how it meshed with my life, and I write a little about what learned me." The next month in February 1996 a man named Dave Winer wrote a blog that discusses the 24 Hours of Democracy project. In April of the same year Winers launches another weblog, which in 1997 changed names to "The Scripting News". This is the oldest remaining blog and is still in use today. If you wish to view this blog you can do so here: http://www.scripting.com/. The company Winers heads called "Userland" later released the first blogging software tool called "Radio Userland".

1999 was a big year for blogs as Peter Merholz coined the word "blog" by shortening "weblog", there were a record 23 blogs in existence and Pyra Labs (owned by Google) launched the site "Blogger" which allows everyday people to create a blog for free. Since the introduction of Blogger, millions of people have created blogs talking about anything. Popular topics are; personal experiences, popculture or technology.
Blogs Today
Blogs today cover many topics and are presented in many different ways. The most common method is to have the most current entry at the top of the page making it easier for people to immediately see if there have been any updates or not. Like any site, different blogs have different topics they cover, writing styles and of course audiences. For the purpose of this project, I will be presenting three different blogs with three different topics and styles as well as one forum that I think best represent where blogs/forums are today and where they may be heading.
1) Pop Culture Blog - www.PerezHilton.com
Perezhilton.com was launched in 2004 with its main goal being to have all the latest celebrity gossip and news first. Throughout the years it has gained more and more popularity and was named one of the top 5 websites for college aged women in February 2008. It has won other notable mentions such as being named the #1 Web Celeb by Forbes magazine, also UK newspaper The Observer named Perezhilton.com #6 on the list of the 50 most powerful blogs. Perez's blog on average has 3 MILLION visitors a day. Because of the high traffic, advertising is in extreme demand for the blog. Running a 150x200 pixel ad for one week costs about $9 000. By blogging about celebrities, Perez has turned himself into one. He now has his own show on VH1 called What Perez Sez, a radio show broad casted across North America and he even has his own clothing line sold at Hot Topic. He hosts countless Hollywood parties and will even be starting a record label and writing a book this year. His brash honesty, sense of humor and quick reporting make his blog addicting to those who love celebrity drama; things are looking nowhere but up for Perezhilton.com in 2009.
2) Technology Blog - www.itechnews.net
Above is a typical post by itechnews.net. Itechnews.net is a blog geared toward technology lovers. They post on any topic in the technological world be it from laptops to cell phones to personal modifications. There are multiple updates a day so if there is something new to the world it's almost guaranteed to be on this site. Each post contains specs of each product, so a more advanced knowledge of these things would be helpful. Although this blog isn't as famous or revolutionary as perezhilton.com it is a great way to learn something new about a product you might want to purchase in the future; because technology is changing so rapidly, itechnews.net gives people an easy way to see the hi-lights of new technology daily.
3) Personal Blog - www.laiyeen.blogspot.com and www.shannon-in-europe.blogspot.com
Last but not least is the personal blog. The purpose of this blog is, of course to update friends and family on your own personal experiences. Sometimes when life is too hectic to call everyone or e-mail everyone individually it is still nice to tell everyone what you've been up to through your very own blog. As mentioned earlier, setting one up couldn't be easier, and updating is just as simple. One can just go to www.blogger.com and be on their way to they online journal in minutes. Another nice feature is the ability to comment on the blog. Friends and family can write you little notes at the bottom and the blogger can of course reply back. Here is an example of a personal blog:
As you can see there is also an option to load photos to blogs which is even better for your readers. Personal blogs are usually updated once a month to multiple times per day depending on a person. Another type of personal blog is a traveling blog. I actually kept one of these myself while I was backpacking in Europe. It was so easy and nice for my family and friends to see what I have been up to. Also, if other people around the world google somewhere I have been + blog, there will be a link to my blog. This gives people a more realistic opinion about a city since the person blogging doesn't have a biased or sweetened opinion like someone may have who is getting paid to blog about it.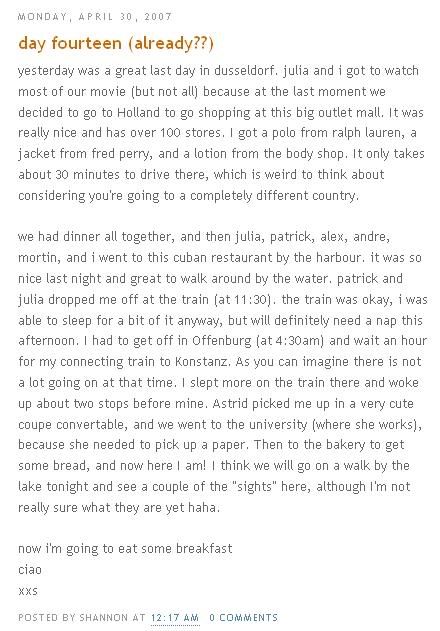 4) Forums - revscene.net
There are many types of forums on the internet which allow users to discuss various topics freely. Revscene.net is a car forum based in the lower mainland of British Columbia where users can discuss cars, lifestyle and off-topic events. If you have a question you need answered or something funny you want to share, you have a guaranteed audience of hundreds or more people to answer or share in the laughter with you. Below are photos of two typical questions one may have on a forum (first = off topic thread, second = automotive thread).
Issues
Validity of Information
Blogs today cover a wide range of topics and act as easy access resources for finding information online. Blogs are easily accessible and are updated on a regular basis. They are a useful tool whether one wants to keep up to date on a friend's life or find information on a certain topic. When using blogs or forums as a resource one must be careful; almost anybody can have a blog and information found on them is by no means reliable. Some questions one should ask before using any information found might be: Is this info. Sourced or cited? or Is this blogger reliable or trustworthy? If you don't know where they have gotten their information chances are you should not trust it right away.
Privacy and Censorship
An issue of major concern today with blogs and forums is the privacy and censoring of these public pages. As we know the internet is far from secure and when it comes to the question of who is viewing these pages several issues arise. Firstly photos or passages found on ones blog can be threatening to their job depending on who views the pages. There have been many documented cases of people losing a job over inappropriate content posted on a blog. An even larger problem than this is the fact that children of any age have access to blogs and forums. This not only puts a child at risk of stumbling upon inappropriate information but puts them at risk of internet predators. Most blog sites attempt to enforce age limits on their members but this is difficult to enforce.
Case Study Example: Article taken from: "news.cnet.com/"
"Mark is no longer an employee at Google," a Google representative said in response to an inquiry Tuesday. Efforts to reach Jen for comment were not immediately successful.
Jen's departure comes less than a month after he joined Google as part of a wave of new hires and began recording his impressions of his new employer, including criticisms, in his blog.
Employee blogging is on the rise, sparking increasing clashes between workers and management over the line between appropriate and inappropriate commentary. In one recent dispute, a Delta Air Lines flight attendant lost her job after posting photos of herself in uniform on her blog.
A Microsoft contractor lost his job last year after he took some pictures of Apple G5 computers being unloaded onto the software company's campus and posted them to his blog.
Spamming and Advertisements
A less prevalent issue is spamming and unwanted advertisements on public forums or blog responses. On forums it is very common for companies or people to try to plug a product, service or idea, this is when moderators step in and have the ability to revoke memberships or simply remove the unwanted posts. Similarly on a blog response the blogger usually has the ability to limit who can respond and delete unwanted responses.
Solving Issues
Tips to Keeping You Safe on Blogs and Forums
Blogs and forums rapidly rised in popularity. They provide convenient avenue for communicating or writing personal experience. But at the mean time, the emergence of blogs and forums also bring legal liabilities and other consequences, such as defamation or possibility of attacks or threats.
How to keep yourself safe online when you're blogging or foruming? Here are some tips for you:
1. Always protect your password. Try to remember them in your head instead of writting them down on a notebook. If you have too many passwords to remember, write them down but keep them safe.
2. When you blog, don't post anything about your personal information (i.e. your real name, your phone numbers, address or school you attent). And if you want to post your photos on blog, blur your photos a bit so they won't be abused by other interent users especially predators.
3. Be aware what you write online will stay online. Even though you are able to delete what you post on your blog, you can not sure there is noboby copied your words and post them somewhere else. Therefore, always think carefully before you submit anything. And remember: don't say anthing online that you wouldn't say offline.
4. When you stay online, protect your privacy and your friends' privacy too. Get their permit before you post anything about them. In addition, it is necessary to check your friends' blogs. Even if you are careful, but what your friends post about you may put you at risk.
5. Try not to post your blogs publicly. And use website privacy settings. Privacy settings allow your "friends" control to see your pages, while preventing people you don't know to view your personal information.
6. Whenever you suspect that a defamation takes place or you may be at risk, contact webmaster and police immidately.
For Webmasters
1. If you are a webmaster, no matter you're a professional one or not, you have responsibility to make sure that your web pages are safe for yourself and whoever access them. You should have privacy police and secure server if you're dealing with anything about personal information or payments.
2. Put as less advertisements as you can on your web pages, unless your work is handling advertisement.
3. Always back up your data; better store them onto CD or removable memory. Don't disclose your passwords for anything to anyone. If you allow anyone to access to your server, set up a restricted temporary login then.
4. Regularly check your Server Side and stay updated.
5. Check your logs, no matter how you're confident with your web pages and its security solutions.
Useful Tools to block Ads and Spam
Norton Personal Firewall 2004
Acronis Privacy Expert Suite 9.0
Ad-Aware 2007 Free 7.0.2.6
(More)
Download links: http://www.findmysoft.com/software/block_ads/
Email Remover Ver 3.0
McAfee SpamKiller
Spamihilator
Download links: http://www.email-remover.com/ http://us.mcafee.com/root/product.asp?productid=msk http://www.spamihilator.com/
Reference
http://dictionary.reference.com/browse/blog
http://www.blogherald.com/2005/03/06/a-short-history-of-blogging/
http://en.wikipedia.org/wiki/Tim_Berners-Lee
http://perezhilton.com/?page_id=38
http://labnol.blogspot.com/2006/12/worlds-most-popular-blog-perez-hilton.html
http://en.wikipedia.org/wiki/Blog
http://www.wiredsafety.org/internet101/blogs.html
http://news.cnet.com/Google-blogger-has-left-the-building/2100-1038_3-5567863.html
http://www.wiredsafety.org/resources/pdf/socialnetworktips.pdf
http://www.wiredsafety.org/safety/personal_information_safety/website_safety/index.html