(Group 1) -- Benjamin, James, Tony, Lynn
From wiki.ucalgary.ca
Windows Vista
Group Members
Tony Nguyen
Technology/Issues
Technology: Windows Vista
Issue: What is windows vista, the new features along with it and the problems that arose with the new system
Initial Statement
For our project we will explore what Windows Vista is and the problems that came along with it. Through research, our group will explore its history, visual styles, new features, security features, issues and problems. Over the years Vista there has been several criticisms for some of its functions which required certain updates.
History
Microsoft has developed a number of operating systems and one of those recent operating systems is Windows Vista. Vista was delayed due to the chairman and creator of Microsoft Bill Gates announcing that he will improve the security of Windows Xp. Windows Vista was designed to operate on PCs, laptops, and desktops. Vista once had a code name Longhorn before it was released, and it was released five years after its predecessor Windows XP. On January 30, 2007 it was available to the world, through purchasing or downloading on the Microsoft website. Vista had a number of different changes compared to its predecessor such as upgraded searching features, visual style, audio, increased security which was Microsoft's main goal, and a redesigned networking audio. The main reason that Microsoft aimed to increase its security was that previous versions of windows were subjected to malware and viruses.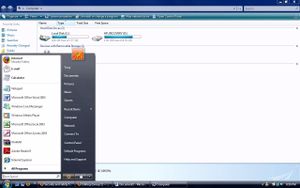 New Visual Features
The icons in the new windows are more realistic compared to previous versions. A search bar has been added within the start menu. The search box within the start menu has allowed faster program/file launching through a faster navigation process. The All programs menu is no longer displayed as a horizontally expanded bar that takes up space but instead opens up and is observed as a single vertical columned file. Windows also added a flip 3D which allows users to flip through their opened programs and quickly access them. Windows new search system which is aka "Instant Search "allows us to go through our system and search up files and folders faster. Instant Search has allowed windows to be more in depth content wise and has a quick display of the files. Windows Vista has four main visual styles. ""Windows Aero"" has given windows a 3D support, live thumb-nails and is designed for high-end video cards. "Windows Standard" is also designed for high-end video cards but unlike Windows Aero it does not have all the really nice visual effects such as windows 3D flip. "Windows Vista Basic" is similar to Windows XP and "Windows Classic" is similar to Windows 2000. Below are just a few listed visual features within the new operating system.
Side Bar
The side bar contains applications that allows us to see information like the time, internet functions, allows us quick easy access and control to windows media player, displays the calendar, Clock, Contacts, CPU Meter, Currency conversion, RSS Feed Headlines, Notes, Picture Puzzle, Slide Show, Stocks, and Weather.
Start icon
The start icon no long is labelled start but instead has the windows symbol. Experienced users are able to add changes to their start menu like adding a calculator. Items in the All programs folder can no longer be opened by double clicking. Users may also lock their computers with the lock button and is able to switch back and fourth to the windows classical visual style just like Windows XP.
Features
Windows has upgraded a lot of old features and has put up new ones. Windows has added new games and upgraded the old ones to have a new graphical feature. Windows has the latest version of windows explorer which allows tabs browsing and allows more protection against hackers installing bugs/malware and going through our systems. Windows new media players supports High-Def DVDs and has new features such as burning, stacking, media sharing and many other functions. Its new Photo system now can read High-def photos and can take the photos from digital cameras and alter and edit them. Windows has also added new fonts to the system. There are many features that allow us to better manage our computer systems.
Security
Windows Vistas primary goal was to increase the security within the operating system. They wanted to be more secure against viruses, malware, spyware, and other insecure things. Vista has added a lot of new security features to help make the operating system more secure. Some of the things in Windows XP have been improved. The Security center has been upgraded to detect malware within the system, and restore some security features in internet explorer. It also allows the system to prevent some damaging changes, and unwanted changes to unauthorized things are also blocked. Below are just a few things that were done to vista that allowed it to be more secure.
Windows Firewall
Windows upgraded the firewall that allowed it to address some problems with the internet environment. A new advanced console has been added to allow faster access to advanced options. It has an IPv6 connection filtering and also has allowed an option to allow some connections to be allowed or denied.
Windows Defender
Windows Defender is windows anti-spyware program. The Windows Defender has some advanced features such as auto start, system configuration, services, drivers, windows add-ons, and many other new functions. It does not only scan the computer for spyware, but also monitors other areas that have changed due to spyware, and can easily remove applications of Active X that has been installed.
Issues and Problems
One of the major problems with Windows Vista is with its drivers and applications. Lots of hardware did not, or had really poor drivers for windows vista. Their frame rate dropped compared to windows XP due to Vistas graphic drivers. Lots of applications do not run with Windows Vista. Some applications had to be rewritten to run on vista. An example of this would be ITunes text and graphics and every time the "Safely Remove Hardware" was used it required the iPod to be fully restored. Laptop battery life was also being criticized, in that laptops with Windows XP did not drain as fast as Windows Vista. Higher consumption is needed because of the new operating system. Games also were affected by windows. Vista also executed files more slowly then XP did. There were many flaws in the memory features. Also windows Vista was criticized for being to expensive internationally. Vista also has to compete with its predecessor Windows XP because businesses are still choosing XP as their main business operating system. Vista is fighting its problems with updates. Microsoft is putting up service packs to improve its performance and make it compatible with other devices.
Conclusion
In conclusion, Windows vista are enjoyed by some users and criticized by others. Vista had upgraded many features allowing more protection, security for the operating systems and new visual features that takes advantage of the graphic features. There were many new features but was not discussed within the Wikipedia page. Microsoft is putting up service packages to download in order to fix the bugs involved with the system. They are trying to make it more compatible with programs, applications, and other devices.
Special Note
The information and facts about Windows Vista were based on the references below. For more information and facts please visit the websites below.
References
Tony Nguyen
http://www.cbc.ca/news/story/2008/02/04/tech-vista.html
http://en.wikipedia.org/wiki/Features_new_to_Windows_Vista#File_operations
http://en.wikipedia.org/wiki/Security_and_safety_features_new_to_Windows_Vista#Other_features_and_changes
http://en.wikipedia.org/wiki/Start_menu
http://en.wikipedia.org/wiki/Windows_Sidebar
http://en.wikipedia.org/wiki/Windows_Firewall#Windows_Server_2008
http://en.wikipedia.org/wiki/Windows_Defender
http://www.vista4beginners.com/Windows-Vista-problems
http://en.wikipedia.org/wiki/Criticism_of_Windows_Vista