(Group 3)-- Andrew, Brandon, Renald, Lisa, Maisara
From wiki.ucalgary.ca
Wikipedia - a good source of information?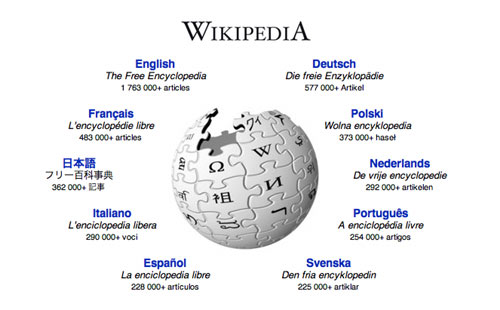 Team Members
Lisa
Renald
Maisara
Brandon

Introduction
"The sum of all human knowledge in the world"

Wikimedia offers a free online multilingual encyclopedia, dictionary, sources, quotes, news, learning tools, textbooks, species, and coordination. These links can easily be accessed at the bottom of any Wikimedia site. All sites are a collaboration of ideas that become facts if enough people concur that each idea is true. Thus it is called, "the sum of all human knowledge". It can be edited by anyone that can access the website and if there is an agreement that the information is correct the argued, facts are posted. Canadians ranked Wikimedia as the top 9th out of the top 100 most visited websites. It has articles in more than 250 languages, making it a universal site to find and edit information. Wikimedia is a nonprofit foundation that runs the Wikipedia site, which is the world's largest encyclopedia. Although its accuracy can be questioned, Wikipedia along with other Wikimedia sites provide a wide range of facts, with links to accurate sites. Wikipedia has been compared with other encyclopedia's and has said to have less misinterpretations, this is due to the neutral point of view that all Wikipedia authors are encouraged to have and provide. Wikimedia sites have had an astonishing affect on the world for providing information people need without the cost or waste of paper and ink. Every user is a reader, author, and editor all at the same time. These easy accessible sites are up and ready at your disposal.
Statement
Although it is not 100% reliable and people criticize Wikimedia sites such as Wikipedia, it is one of the most popular sites for re-search, since it has many other resources to offer. We believe it is a good source of information and an exceptional starting site for re-search.
Brief History of Wikipedia
Wikipedia began as a corresponding project for Nupedia. Nupedia, founded on March 9, 2000, was a free online English encyclopedia project that had articles written by experts and went through a formal process of revision. It was under the ownership of Bomis, Inc, a web portal company.
Jimmy Wales was the CEO of Bomis and together with the editor-in-chief of Nupedia, Larry Sanger, they were the most important figures in the creation of Wikipedia. Jimmy Wales introduced the idea of wikis on Nupedia, which would allow anyone to edit the articles on the website. This idea took effect and on January 15, 2001 it was formally launched as a separate website called Wikipedia.
Many other projects have branched out of Wikipedia for editorial reasons. The co-founder, Larry Sanger, continued as editor-in-chief for Wikipedia. The two websites coexisted until Nupedia shutdown in 2003 and Wikipedia really started growing. Its articles, in all languages, have been growing at an increasing rate and in September 9, 2007 the English Wikipedia reached 2 million articles, making it the largest encyclopedia ever assembled.
Arguments
Advantages
Since its inception in January of 2001, Wikipedia has become a familiar environmentally friendly online name; this familiarity is one of its many strengths. In just three years, it has produced approximately 1 500 000 articles, a figure that outnumbers all other online encyclopaedias. The number of articles grows every month and people who visit its website is doubling every 4 months.
Its contributors produced about 3 million articles in over two hundred languages – English, Japanese, French, Italian and Portuguese, just to name a few. Wikipedia was created for e-learning online with the intent to be a great source of basic information. While it remaining an open encyclopaedia for anyone to make edits, and is continuously updated, it is scrutinized regularly by it many editors to eliminate any vandalism. Wikipedia is a great source of basic information for anyone interested in gaining knowledge quickly. It is concise and accurate, although critics have challenged its accuracy, recent studies show that in comparison to some magazines being published, Wikipedia had an average of 4 errors while some magazines average about 3 errors. This comparison shows that Wikipedia is not as bad as some have claimed it to be. There are about 800 long-time contributors who volunteer to maintain the site and help to check the accuracy of the articles. If there are any discrepancies, Wikipedia is quick to remove it. To keep on top of things, Wikipedia has a system to catch and control any vandalistic edits and have other programs to review and improve articles to ensure a high quality standard of articles.
Another distinct strength in Wikipedia is that anyone can make a few edits. This feature is one way to ensure that a large crowd can eliminate a lot of biases. Wikipedia has grown since 2002, and has been successful because of the low cost of worldwide knowledge. Moreover it provides access to subjects that are sometimes not accessible and provides updates on events or any other subjects.
Wikipedia is the biggest encyclopaedia in the world in history because it constantly grows and changes. There is no comparison to ordinary encyclopaedias where information stays the same, possibly for years until a new set of encyclopaedia comes out; whereas Wikipedia is always updated every few hours, weeks or months. In addition to its own information it also provides links to other websites for further in depth information.
Lastly, Wikipedia has made an impact on the environment since it never needs to be printed. Ordinary encyclopaedias uses a lot of paper and Wikipedia is found online so it never needs to waste any trees.
Disadvantages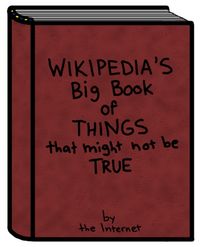 Wikipedia is a free encyclopaedia that anyone can edit. In fact every day there is hundreds of thousands of visitors that make tens of thousands of edits. It is written by volunteers and people from all over the world in more than 250 languages. All you need is access to the internet, a user login and password and simply by clicking edit you can make additions or change to whatever article you find. With all of these people editing, every single day, the question arrives; are the articles I read on Wikipedia credible or is a research tool that should not be trusted.
The problem of having an encyclopaedia that anyone can edit is that people who edit might not be qualified to compose articles that depict any element of truth. Also vandalism can happen, and Wikipedia's only defence against these actions are a revising team that assesses the quality and factual value of all the articles on Wikipedia. With over 2.6 million articles, in English alone, the revising team cannot catch every act of vandalism and wiki states that on pages with few hits, vandalism often goes unnoticed. Another problem is that people often add information without citing their sources, and these articles are immediately considered vandalism. Non-credible acts include... adding, creating, removing or modifying, in an intentional attempt to compromise the integrity of Wikipedia. These are all considered vandalism. When editors make honest mistakes in their articles or editing articles this is considered to be justifiable and not considered vandalism. Wikipedia does not recommend it's site be used for research as many articles contain material that is currently being debated. Specifically articles might start broad and move to a more concentrated or precise point of view over time and this leads to misleading information and confusion among readers. The opposite can also be said where the article is debated and over time many different views are expressed. Many of these errors attribute to the dangers of trusting Wikipedia as a reliable encyclopaedia.
Other problems with Wikipedia may include that because it is not an official encyclopaedia, many articles may lack depth, while others might be well covered. Also it is apparent that there is a bias in the people who do most of the editing of Wikipedia. Most of the editors prove to be mostly males, people rich enough to own a computer and younger people rather than older. This is another factor of the credibility issue that seems to surround Wikipedia.
Fun Facts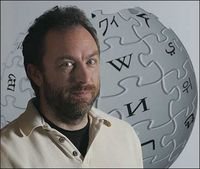 We need to deal with such activities with absolute harshness, no mercy, because this kind of plagiarism is 100% at odds with all of our core principles. All admins are invited to block any and all similar users on sight. Be bold. If someone takes you to ArbCom over it, have no fear. We must not tolerate plagiarism in the least.
— Jimmy Wales 04:28, 28 December 2005

There is no need nor intention to be vindictive, but at the same time, we can not tolerate plagiarism. Let me say quite firmly that for me, the legal issues are important, but far far far more important are the moral issues. We want to be able, all of us, to point at Wikipedia and say: we made it ourselves, fair and square.
— Jimmy Wales 15:54, 28 December 2005
Conclusion
Wikipedia is a good source of information for researcher who needs a good starting point for a topic. There is power in numbers; whether it is the amount of articles or the amount of contributors and editors, so far nothing is comparable. Think about it, if it were not a trusted source, there would not be so many people using it world wide.
References
Renald
http://features.slashdot.org/article.pl?sid=05/04/18/164213
http://features.slashdot.org/features/05/04/19/1746205.shtml
http://en.wikipedia.org/wiki/History_of_Wikipedia
http://en.wikipedia.org/wiki/Nupedia
http://en.wikipedia.org/wiki/Wikipedia
http://meta.wikimedia.org/wiki/History_of_Wikipedia
http://en.wikipedia.org/wiki/Jimmy_Wales
http://en.wikipedia.org/wiki/Larry_Sanger
http://meta.wikimedia.org/wiki/History_of_Wikipedia
http://wapedia.mobi/en/History_of_Wikipedia
Lisa
http://www.parc.com/research/publications/files/5904.pdf
http://larrydavidson.blogspot.com/2007/01/wikipedia-revisited.html
http://ebiquity.umbc.edu/_file_directory_/papers/274.pdf
http://delivery.acm.org.ezproxy.lib.ucalgary.ca/10.1145/1140000/1135863/p585-volkel.pdf?key1=1135863&key2=6914536221&coll=GUIDE&dl=GUIDE&CFID=10275456&CFTOKEN=72648452
http://lamp.tu-graz.ac.at/~i203/ebner/publication/06_iknow.pdf
http://www.iht.com/articles/2005/12/05/business/wiki.php?page=2
http://news.bbc.co.uk/1/hi/technology/4534712.stm
http://ezproxy.lib.ucalgary.ca:2048/login?url=http://search.ebscohost.com/login.aspx?direct=true&db=a9h&AN=19326548&site=ehost-live
http://www.swgfl.org.uk/uploads/ict_conferences/uwe/1c/resource3.pdf
Brandon
http://en.wikipedia.org/wiki/Wikipedia:About
http://www.reference.com/browse/wiki/Honor_code
http://en.wikipedia.org/wiki/Fair_use
http://www.alexa.com/site/ds/top_sites?cc=CA&ts_mode=country&lang=none
http://wikidocumentary.wikia.com/wiki/Main_Page
http://www.answers.com/topic/wikipedia
http://en.wikipedia.org/wiki/Wikipedia:Verifiability
http://www.infotodayblog.com/2005/12/01/fascinating-facts-on-wikipedia/
http://technology.timesonline.co.uk/tol/news/tech_and_web/the_web/article2490895.ece
http://www.usatoday.com/news/opinion/editorials/2005-11-29-wikipedia-edit_x.htm
Maisara
http://commons.wikimedia.org/wiki/Commons:General_disclaimer
http://commons.wikimedia.org/wiki/Commons:Welcome
http://commons.wikimedia.org/wiki/Main_Page
http://en.wikipedia.org/wiki/Main_Page
http://en.wikipedia.org/wiki/Portal:Contents
http://www.wikipedia-watch.org/
http://www.wikipedia-watch.org/psamples.html
https://lists.wikimedia.org/mailman/listinfo/mediawiki-announce
http://mycroft.mozdev.org/wikipedia-search-plugins.html
http://www.masternewmedia.org/news/2006/11/23/introduction_to_wikipedia_and_wikinews.htm