CPSC203 2008Fall T19 Group5
From wiki.ucalgary.ca
iWant: the Explosive Popularity of the iPhone
On January 9th, 2007 Apple Inc , introduced the iPhone to the world. After much speculation and rumors, apple decided to revolutionize the way people view a cell phone. With the introduction of the iPhone, Apple created a device that brought together all the functions and applications one needs in a simple and easy to use device. The iPhone, is mobile phone with the capabilities of storing and retrieving information. Therefore, a user may listen to music, surf the web, play music, watch movies, view photos, check emails, and use the thousands of applications that have been created. The iPhone, works on touch rather than the use of a mouse, stylus or keyboard, and offers a rich 3.5 inch screen to work with.
On July 11, 2008 Apple introduced their 2nd generation iPhone with the realease of the iPhone 3G which enhanced the speed, and allowed for the capability of working on 3G networks. Apple also added the feature of a built in 2.0 MP Camera.
Team Members
Babak Minoosepehr, Cecilia Chung, Emily Ursenbach, Eric Zhao and Martin Hung.
Project Statement
The issue in question is the current popularity of the iPhone; we are interested in delving further into its attraction to mobile users and whether its current high standing amongst other cell phones will persist into the future.
Features of the iPhone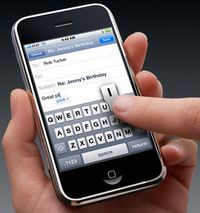 Storage
The iPhone was released with a storage capacity of either 4 GB or 8GB Samsung manufactured flash drive. The flash drive allows the owner to sync. and store information on the iPhone, from either a computer or the phone's wireless technology. Some of the most common information stored on to the iPhone are music, videos, photos, applications and software. On September 5, 2007 the 4GB iPhone was discontinued due to the lack of storage capacity and un-expandable storage. On February 5, 2008 Apple Inc. introduced the new 16GB iPhone in to the market.
Display
The iPhone display screen allows the user to achieve convenient access and accuracy through the virtual keyboard on the iphone's multi touch screen. It allows the user to guide and operate their iPhone by using only their fingers. Typing is also control by using a virtual keypad on the touch screen, for speed and accuracy the iPhone includes a program which can support the user with 21 languages, automatic spell check, predictive word and dictionary. The screen is 4.5 inches (height) x 2.4inches (width) with a 320 x 480 resolution pixel display. The iPhone screen can also respond to motion due to a built in accelerometer, changing from landscape to portrait only takes a twist of the iPhone.
Specifications
Specifications of the iPhone provided from [en.wikipedia.org/wiki/Iphone]

'Original Model'
Storage
- 4GB or 8GB or 16GB flash drive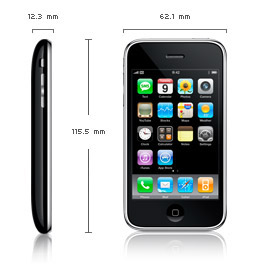 Memory – 128 Mb DRAM
Screen – Multi- touch screen, 480X320 pixel at 163 ppi
Size- 4.5 inches (height) x 2.4inches (width ) x 0.46inches(depth)
Weight-135g
Battery- rechargeable lithium ion battery (non removable)
Camera- 2.0 megapixel
Wireless- Wi-Fi (802.11 b/g), Bluetooth 2.0, Quad Band GSM/ GRRS/ EDGE: GSM 850 / 900/ 1800 /1900
Processor - 412 MHz ARM 1176, PowerVr MBX 3Dgraphics co-processor
Operating System- iPhone OS
'3G Modle'
Color
-Black(8BG) or White(8GB or 16GB)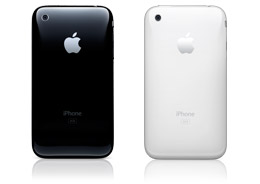 Storage- 8GB or 16GB flash drive
Memory – 128 Mb DRAM
Screen – Multi- touch screen, 480X320 pixel at 163 ppi
Size- 4.5 inches (height) x 2.4inches (width ) x 0.48inches(depth)
Weight-133g
Battery- rechargeable lithium ion battery (non removable)
Camera- 2.0 megapixel
Wireless- Wi-Fi (802.11 b/g), Bluetooth 2.0, Quad Band GSM/ GRRS/ EDGE:GSM 850 / 900/ 1800 /1900, 3G Tri Band UMTS/ HSDPA: UMTS 850 / 1900/2100)
Processor - 412 MHz ARM 1176, PowerVr MBX 3Dgraphics co-processor
Operating System- iPhone OS
Software/Applications
The iPhone OS it the operating system for both the iPhone and the iPod Touch, the software includes a core animation and PowerVr MBX 3D hardware. The core and 3D hardware allows the IPhone to responses to smooth animation and they are responsible for the operation of the iPhone. But the down side is that the OS software takes neatly ½ GB from the flash drive of the 4GB, 8GB, 16GB iPhone.
The downloadable application of the iPhone creates a big attraction factor for many consumers. Applications such as is text messaging, calendar, photos, camera, YouTube, stocks, Google maps, weather, clock, calculator and notes on the palm of your hand is truly considers as a powerful portable device. The iPhone takes advantage of the smart built in sensors which allows the phone to respond to the environment of the user. Sensors includes ambient light sensor and the proximity sensor allows the iPhone to auto adjust brightness and expands the possibilities of many amazing applications. Applications can be downloaded from the iTunes store then sync the application on to you iPhone. Applications on iTunes range from free to $0.99.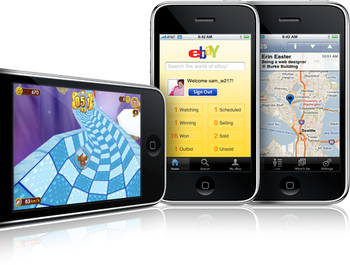 Top 10 paid applications
Ocarina
Flick fishing
iHunt
Strategic Assault
Bejeweled2
Moto chaser
Pocket first aid
iBeer
Crash Bandicoot
Fake Calls
Camera
The camera on the iPhone allows the user to take photos at a 2 megapixels quality. The photos captured can be synced on to a computer, emailed, contact picture, used as wallpaper and even upload the image right from your iPhone to the World Wide Web. Image management is a software included with iPhone which allows a simple and basic image management, such as view pictures, save picture , delete, sent picture and image cropping. There are a few down sides to the iphone's camera, the camera can not apply optical zoom, flash, auto focus nor video recording.
Bluetooth, Wi-fi and 3G
For both the original and 3G iPhone models Wi-Fi and Bluetooth are included for convenient data access. The built in Wi-Fi (802.11 b/g) allows the iPhone to connect to wireless networks, which can provide the iPhone with internet connection. An application such as safari allows the user to access the World Wide Web identical to a computer's format. The iPhone can support wireless ear piece through its Bluetooth 2.x+EDR technology. A disadvantage of the iPhone's Bluetooth is that it only supports HSP profile, this would excludes any stereo audio, laptop tethering or OBEX file transfer protocol. Due to the lack of the profiles it prevents the iPhone from exchange data with other Bluetooth devices, such as pictures music and videos.
The 3G model of the iPhone provides the phone with the third generation (UMTS and HSDPA) of mobile phone technology, which allows the user to access to a wider range and more advanced wireless data transmission phone service. The 3G network has the power to download up to a speed of 14.4Mb/s and an upload speed of 5.8Mb/s (3G networks is twice as fast as the 2G networks). At this high transmission rate it allows the iPhone to support video calls and even surf the web.
Controversial Aspects of the iPhone
Battery
iPhone 3G has been known to be most powerful smart phone in the world. 3G Network, Wi-Fi, Bluetooth are all included in the device. With that, people can make video calls, play music and videos, browsing the web or even locate yourself electronically, while other smart phones may not be able to do as much as it does.
With this outstanding performance, it comes with a significant drawback--the battery consumption issue. Although Apple stated that iPhone promises standby up to 300 hours, the battery can be drained in a dramatic speed with most its network connections turned on like Wi-Fi and Bluetooth. Moreover, a variety of programs like games and Email may also play a crucial part in depleting the battery. It is a common misconception that sleeping the device shuts up all applications. Shutting down all unnecessary applications with the home button will stop the processor using up too much power for running these applications. Eventually, many people who don't know much about this stuff may have to charge the phone once every 2 days, in some cases, once dayly, which is quite different from what Apple said.
Every rechargeable lithium ion battery has a specified amount of rechargeable circles, and it will lose part of its original capacity after that. The battery in iPhone has the same problem above mentioned. According to Apple, the battery may lose up to 20 percents of its original capacity after 300-400 charging circles. Since the heavy battery consumption, the device has to be charged frequently and the battery could lose some of its capacity after. Ultimately, the battery cannot meet the need of customers and has to be changed. Since the battery in iPhone is set in non-user-replaceable model, customers cannot replace the battery by themselves but have to send the devices to the company and have them replaced. With warranties, people could simply send the phone to Apple for a free service, while users with warranty lapsed may have to consider iPhone Battery Replacement Program, which costs 79 US dollars, plus $6.95 shipping. There is even a lawsuit charging Apple for locking customers into purchasing an $86 replacement from Apple alone. Furthermore, all data stored on the phone will not be preserved when the procedure is being processed. Some people may fail to synchronize their devices with iTune to backup their important data before sending the devices for the service.
Security Issues
When people were lining up for the newest iPhone 3G, few people were aware of the security issues that an iPhone may have. Just a few days after the release of the iPhone, someone discovered the bug that attackers can simply 3 taps on the screen and home button and get full access to iPhone even though the device is locked with passcode.
Since the iPhone have a number of network connections, it might provide different holes for hackers to take control of the device. One of the common methods is Wi-Fi. Since iPhone learn access points by names, when a user get close to a network previously trusted, iPhone will use the malicious access point that controlled by the attackers automatically. The hackers can simply send an exploit to any webpage opened in the Safari on the iPhone and take control of the device.
Although Apple has been notified bugs from security agents and the public, the company seems like failing to patch buys in a reasonable time. From the date iPhone released, some vulnerabilities have been discovered like the one mentioned, Apple patched it after one month. In some cases that Apple patched to its software, such as Perl Compatible Regular Expression Library (PCRE), in over 1 year. That had been known to the public that will allow hackers to break into the system. In addition, patches sometimes included not only security pack but also new features and functionality such as iPhone Update 1.1.1. The patch did fix some bugs, but its new features plugged holes in the device's built-in Safari browser.
As Apple products are gaining more and more share in the market, they are more likely to be the targets of attackers like the situation that Microsoft has now. Window gets hacked all the time not because its insecurity but for the reason that 95 percent of computer users are on windows. Additionally, people who have iPhone tend to be wealthier than the general population. Hackers would get more useful information from it than ordinary phones. Therefore, iPhone has a higher risk of becoming a target.
Touch Screen Sensitivity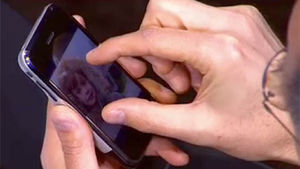 Though
touchscreen
technology had already manifested itself on the market for years in various forms, these systems were generally only capable of interpreting only one contact point between the finger or stylus and the screen. The iPhone took consumer use of this technology to the next step by incorporating multi-touch capabilities; this greatly expanded the possibilities of user-touchscreen interactions, leading to numerous actions on the iPhone that require the user to simultaneously touch multiple points on the screen (e.g. zooming within the web browser).
Soon after the release of the iPhone, however, touchscreen issues began plaguing a number of users. Online communities began seeing reports of loss of responsiveness in particular portions of the touchscreen. A common feature of this hardware issue was the location of these "dead strips" - for most, loss of functionality usually occurs within the strip of area that is approximately a half-inch from the top or bottom of the screen. The result is inability to access critical controls or shifting the touch input to the wrong region. This issue appeared to be permanent and only reparable through direct replacements from Apple. The company, for its part, was aware of the problem and replaced defective phones with little questions asked; however, users wishing to rent another unit during the repair process had to pay $29 for a temporary replacement phone. Some customers, however, reported successful negotiations to waive the rental fee.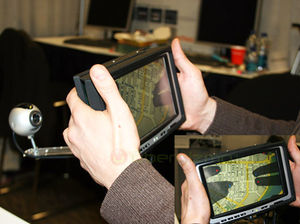 Another complaint that had arisen regarding the iPhone touchscreen concerned users with larger hands. For those individuals, not only do their hands tend to obscure the screen when holding it with both hands, there is also the issue of the 'fat finger' problem. This makes using the iPhone keyboard particularly difficult, as the touchscreen senses all areas the finger is interacting with. This then means that the areas of the screen interacting with the user is dependent on the size of the user's digits, and too much area interaction leads to problems such as typos while sending messages or making wrong selections in menus. A gadget is in the works to overcome these problems - US researchers have created a prototye, named the
LucidTouch
, with a large touchscreen like that of the iPhone, but also with a touch-sensitive interface on the back. The user's fingers then appear on the screen as though the screen is transparent, and the fingers on the rear interface may interact with the screen much like one normally would with the front screen without obscuring the front screen. The active point of each finger is also highlighted by a small green dot, allowing precise interactions to be made (thus overcoming the 'fat finger' problem).
Individuals with long fingernails also have reported problems with the touchscreen. Due to the multi-touch system, the iPhone touchscreen relies on the electrical charge emitted through fingertips, rendering the use of a stylus or non-conductive gloves useless when operating the iPhone. Fingernails do not provide that electrical charge, meaning that the iPhone will not respond to fingernails tapping at the screen. One solution for users with long fingernails is to type with their thumbs; however, this leads back to the issue regarding larger fingers. In 2008, Ten One Design developed an aftermarket stylus that overcomes the electrical charge problem, providing another potential solution to both fingernails and large hands.
Pricing
The iPhone has gone through a lot of price changes ever since it came out. Initially it cost $600. This was a very high price, but many people decided that it was one that they were willing to pay. Two months later these same people became enraged with apple because they dropped the price by $200 (making it cost $400). Those that had bought the $600 iPhone felt that they were cheated by apple. In an attempt to make reprimands with their angry customer's apple gave them a $100 in store credit. There has been much speculation as the reasons behind the sudden price drop. Apple said that it was done to "create a large demand for the Christmas season".
This price changed again when apple created a newer version iPhone (known as the 3G iPhone). It costs $200 for the 8GB version, and $300 for the 16GB version. There has also been a change with the "unlimited data plan". It used to cost $20, but with the newer model it is $30. Two hundred dollars seams live a good price when you compare it to $600. However, this seems less attractive when you compare it to other products. The Samsung Instinct is very similar to the iPhone. Not only does it have touch screen capabilities, but it also has a keyboard inside so that, if you want, you can text by using buttons instead of the touch screen. The Instinct only costs $130, and that's with a 2 year contract which includes unlimited texting.
Monopoly of Telecommunication Rate Plans
Since the realease of the iPhone, there have only been two telecommunication service providers in Canada and the USA. AT&T for the United States, and Rogers Communications in Canada. Due, to the reason being that the iPhone works primarily of Sim Technology , these two companies support Sim Cards. Thus, creating a pricing system that is monopolistic. These two companies are setting prices that are very high, knowing that customers will still purchase the iPhone due to it's popularity. In Canada, Rogers Communications is the only network that offers phones with Sim capabilties. Rumours are spreading that Telus may have an iPhone on their network in 2009, and maybe that will lower rate plans. However, as of now rate plans for the iPhone are extremely expensive.
The plans breakdown as follows:
$60/month buys you 150 anytime minutes, 75 outgoing SMS, and 400 MB data
$75/months buys you 300 anytime minutes, 100 outgoing SMS, and 750 MB data
$100/month buys you 600 anytime minutes, 200 outgoing SMS, and 1 GB data
$115/month buys you 800 anytime minutes, 300 outgoing SMS, and 2 GB data
The main reason for the monopoly in Canada, is due to the iPhone being primarily and only a GSM phone and is not produce to be a CDMA phone. Rumours and speculation are surrounding Canada's second biggest telecommunication firm Telus. Telus has plans in the work to maybe introduce a GSM network across the country however, there is a hefty cost, an approximation nearing $500 Million dollars.
Effectiveness of Apple Help Centre/Warrantee Coverage
The iPhone Warranty: Comes with
  90 days of technical support
  1 year of hardware repair coverage

Extended plan
  2 years of hardware repair coverage
  Costs $69.00

In general people seemed to be satisfied with the warranty and help services of apple. The results of a survey showed that apple is able to solve their customer's problems 80% of the time. Also, if you live near an apple store that store will give you unlimited technical support.
Although apple customer assistance may appear to be superb in is not that way all around. While most computer companies will give free technical support for a year or less apples only lasts for 90 days. Also, the warranty doesn`t include ANY type of water damage. Usually you would just take out the battery (turn it off) and let it there, but this doesn't work with the iPhone. The only way to turn it off is with the touch screen. The touch screen will likely not be able to do this (thanks to the water damage that is happening) so you'll need to take out the battery. This isn't going to work either since the battery is directly connected to the motherboard; hence not even letting you see it (let alone take it out).
Digital Rights Management Issues
Apple utilizes its own digital rights management technology, FairPlay, on the iPhone. Opposition describes FairPlay - labeled as "crippleware" by some - as essentially locking the consumer into an Apple monopoly. FairPlay is integrated into iTunes. iTunes rip songs from CD into AAC format; while anyone can play an AAC file on almost any player, the FairPlay DRM-protected AAC songs available on FairPlay is not as accessible. Only iPhones (and the sole line of Apple portable music players, the iPod) can play the songs bought at the iTunes Music Store. Computer may also play songs bought from iTunes, but only through iTunes. No other MP3 devices support FairPlay encoded tracks, which means users must remain an Apple consumer to continue using those products.
iTunes currently imposes three main restrictions on its users through FairPlay:
A maximum of seven CD copies may be made of any particular playlist containing FairPlay-protected songs purchased from the iTunes Music Store.
Users are able to access the songs they had previously purchased from the iTunes Music Store from a maximum of five computers.
As mentioned previously, FairPlay-protected songs may only be played through Apple music-capable devices (i.e. iPhone, iPod) or iTunes Music Store.
However, it is worthy of note that there is no restriction on the number of Apple music-capable devices a purchased song may be transferred to. There is also no restriction regarding the number of times an individual song may be burned to CD. As well, the three restrictions listed above are a modification of previous restrictions; prior to April 2004, purchased songs had access from maximum three computers rather than five, and ten CD copies may be made of any particular playlist instead of seven.
Another DRM issue was the right to give away or sell songs the user has bought. Covered under the first-sale doctrine within copyright law, it permits the purchaser to sell or give away a particular lawfully made copy of the copyrighted work without permission. Apple's DRM, and the way that the iTunes operate with its restrictions, makes this difficult for purchasers.
According to Apple CEO Steve Jobs, FairPlay was the result of contracts with cautious record companies that required Apple to protect their music from being illegally copied. On February 6, 2007, Steve Jobs publically called on the Big Four record labels to permit sales of DRM-free versions of their songs; this also showed that Apple was indeed proactively making effort to resolve the DRM issue. In April 2007, iTunes Music Store began offering DRM-free downloads from EMI's catalogue, EMI being the first record label to make such a contract with iTunes. However, these DRM-free tracks had a 30 cents upgrade fee; the old DRM-encoded tracks were 99 cents, whereas the new DRM-free tracks were $1.29). Full DRM-free albums, however, were available at no extra costs. In October 2007, all the prices were reverted to the DRM price (99 cents).
Other music companies are beginning to abandon DRM - ironically, due to it being too effective. DRM has placed Apple is a position of power; the popularity of iPods and other Apple products have made iTunes Music Store the third-largest music retailer in the United States, and it is safe to say that there is no currently viable competitor to Apple and iTunes. This places the music companies under the pressure of Apple when it comes to forming contracts and business deals. In order to encourage competition against Apple, one of the ways is to get rid of DRM as FairPlay is what is making iTunes exclusive to Apple users. For the moment, however, DRM is in place and will not leave so easily nor quickly.
Advertisement
Promotion of the iPhone
Apple's announcement of a new iPhone generated a technological hype worldwide. An IPod with the abilities of a mobile phone, GPS, Camera, WI-FI and even 3G proved to the technological world, it was the superior phone of the 21st century. Hundreds of downloadable applications made the iPhone suitable for everyone's interest. Promotions such as the 3G technology attracted many consumers due to the upgrade from 2G generation phones, which allows the iPhone with features like video calls and wireless internet. Comparing specs with other cellular phones the iPhone's gigantic storage drive makes others phones appear weak. Also the high tech touch screen and amazing portability makes the iPhone stands out of the crowed.
Collaborations with Other Companies
The iPhone has been able to collaborate with other companies to meet the demand of all its diversed consumers. Nike and Apple have come together to offer Nike + iPod which is an odometer, and allows you to measure the distance you travel while listening to music and working out. Google has worked on Google Mobile which is an application that allows one to speak into it to find the nearest locations of business around you, as well to access other helpful Google features such as mail and weather. Facebook has come with the iPhone to provide an easy way for users to view their Facebook profiles on the go. Bloomberg has provided an easy way to follow financial quotes and market indexes as well as commodities values and bonds. Wikipedia has offered Wikipanion, to allow access to Wikipedia pages. The Score has offered their Score Mobile application that allows you to view sport scores and news around all major professional sport leagues.
Forecasting the Future of the iPhone
Longetivity of its popularity
Since the iPhone has been realeased to the public it is gaining alot of steam and becoming a dominant phone in the mobile phone market. Within one year approximately 3.2 million units have been sold worldwide since its release on January 11, 2007. Apple is expecting to sell 10 million units by the end of 2008 with the release of the 3G. Many question that the tactics of Apple could have been better and reached farther audiences and sold more units by offering the phone to more carriers. Due to the iPhone only being sold on new contracts, this limits the amount of iPhone's people may purchase and with a hefty cost of over $200 dollars on a contract many people seek alternatives. The realase of the iPod Touch has allowed those to have a device which is the iPhone except for the Phone part.
The iPhone is a remarkable device with it being as popular it is, since the release of the 3G with the built in camera it has surpassed all other phones for uploading pictures onto the internet. Flickr reports that the iPhone with its 2.0MP camera has surpassed Nokia's N95 which has a 5.0 MP camera. The iPhone makes it easy to upload photos, even some people feel that the 2.0MP does not provide effective quality it still is the choice of users of Flickr.
However; many companies are entering the touch screen cellphone world, such as Research In Motion (RIM) which just reveilled their Blackberry Storm and Sony Ericsson's introudction as well. HTC and Samsung have already challenged the iPhone with their cell phones when they entered the market last year.
Meeting the demand of its consumers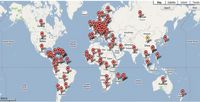 To meet the demand of the millions of consumer who want to purchase this phone. Apple has to ensure that important resources are available to obtain from 3rd party producers. Such as flash memory and touch screens are two vital elements in the creation of the iPhone.
With the iPhone being introduced to other nations on August 22, 2008, Apple has been able to offer the iPhone around the world. However, after the first week that it had come out, many stores did run out of units. AT&T reported that all 1,200 stores in the US did sell out when the 3G came into the market. As well Mac stores were able have 1 or 2 on their shelves. At one point only 23% of Mac stores did have a unit on hand, before the introduction of the other 22 nation that were going to get a hold of the phone. However, Apple somehow produced more phones and met the demand of its customers worldwide. ODesk has reported that the demand for 3G model has risen up to 500% and has created many new jobs for programmers and developers for its application usages.
Apple is hoping to reach 1% control of the world cell phone market by the end of 2008. As of October 21, 2008 the New York times has reported that the iPhone has sold over 6.9 million units worldwide this 4th quarter and is still reaching its goal of 10 million units by the end of 2008.
Other demand issues are rising over Apple design on purchasing applications; the iPhone has a controversial way of choosing which applications a user would like to download. Making it difficult at times to search through all the endless applications that are available in the market.
Proposed tactics for continued success of the iPhone
The iPhone still has a lot to offer to continue on its success and be a force to be reckoned with in the industry. Apple still has many features they can expand and elaborate on. Some basic features are still missing that other phones offer such as camera video recording. The iPhone still could release a java flash script to run Safari to its full extent and maybe offer chat/text messengers such as rivals Blackberry with their Blackberry Messenger. Voice dialling, expandable memory, cutting and pasting, and additional Bluetooth profiles are still missing. The biggest and most surprising thing is the battery, which is still inaccessible and cannot be replaced or accessed to.
The iPhone will be a dominant phone in the cellular industry for years to come, what will be next for Apple to expand on, maybe a bigger screen or different models. They might increase the hard drive capacity or even add a greater camera or create a faster and stronger phone. There are speculations that Apple may introduce a $99 version of the popular phone with less features to capture a wider demographic. The pricing would something like this; $99 for an 8 GB iPhone, $199 for a 16 GB iPhone and $299 for a 32 GB iPhone However, there are also rumours surrounding Apple, that they may introudce an Apple HD phone with enhanced VGA touch screen and a more powerful camera. Consumers should noticed these improvments in 2009.
References
Babak Minoosepehr
1)http://www.testfreaks.com/cellphones/apple-iphone-3g/
2)http://www.engadget.com/2007/08/31/the-2008-iphone-display-sharps-next-gen-multi-touch-lcd-reveal/
3)http://www.apple.com/iphone/specs.html
4)http://ipod.about.com/od/understandingiphonemodels/g/iphone_def.htm
5) http://www.rogers.com/web/link/newPhoneBuyFlow
6) http://www.switched.com/2008/01/25/iphone-popularity-on-the-wane/
7) http://blogs.computerworld.com/iphone_most_popular_cameraphone_on_flickr
8) http://www.cnn.com/2008/TECH/ptech/06/16/apple.iphone/index.html?iref=newssearch
9) http://www.bloomberg.com/apps/news?pid=20601082&sid=awugBNcv6mas&refer=canada
10) http://www.ipodobserver.com/story/30090
11) http://www.nytimes.com/2008/10/22/technology/companies/22apple.html?n=Top/Reference/Times%20Topics/Subjects/I/iPhone
12) http://ryanspoon.com/blog/2008/08/30/apple-iphone-dev-center-cant-keep-up-with-developer-demand/
13) http://www.macblogz.com/2008/07/22/apple-trying-to-keep-up-with-iphone-demand/
14) http://startupmeme.com/iphone-developers-needed-demand-up-by-500/
15) http://www.macblogz.com/Media/WorldMap/MacBlogziPhoneWorldMap.html
16) http://www.intomobile.com/2008/10/28/apple-may-just-cut-iphone-3g-price-99-iphone-3g.html
Cecilia Chung
1) Wilson, Tracey V. "How the iPhone Works". June 20, 2007. HowStuffWorks.com. Retrieved November 19, 2008.
2) Martellaro, John. "iPhone Touch Screen Different Than Competition". June 22, 2007. The iPod Observer. Retrieved November 19, 2008.
3) Malley, Aidan. "Apple addressing dead spots on iPhone touchscreens". August 9, 2007. AppleInsider. Retrieved November 19, 2008.
4) Barras, Colin. "'Transparent' gadget could trump iPhone interface". October 11, 2007. NewScientist. Retrieved November 19, 2008.
5) Quinn, Michelle. "The iPhone fingernail problem". June 12, 2008. Los Angeles Times. Retrieved November 20, 2008.
6) Quinn, Michelle. "The iPhone fingernail issue redux: Adapt or resist?". June 25, 2008. Los Angeles Times. Retrieved November 20, 2008.
7) Eran, Daniel. "How FairPlay Works: Apple's iTunes DRM Dilemma". February 26, 2007. Roughly Drafted Magazine. Retrieved November 20, 2008.
8) Stross, Randall. "Want an iPhone? Beware the iHandcuffs". January 14, 2007. The New York Times. Retrieved November 20, 2008.
9) "The Customer is Always Right: A User's Guide to DRM in Online Music". Electronic Frontier Foundation. Retrieved November 20, 2008.
10) Eckersley, Peter. "EMI Begins Licensing DRM-Free Music Downloads". April 2, 2007. Electronic Frontier Foundation. Retrieved November 20, 2008.
11) Stone, Adam. "iTunes for Windows 7.4: Video, iPhone, and DRM-Free Music Support". WinPlanet. Retrieved November 20, 2008.
12) Eran, Daniel. "Inside the iPhone: FairPlay DRM and the iTunes Store". January 18, 2007. Roughly Drafted Magazine. Retrieved November 20, 2008.
13) Anderson, Tim. "How Apple is changing DRM". May 15, 2008. Guardian.co.uk. Retrieved November 20, 2008
Emily Ursenbach
1)Katie Hafner and Brad Stone. (September 7, 2007). IPhone Owners Crying Foul Over Price Cut [Electronic version]. The New York Times
2)Consumer Report. (August 8, 2008). Instinct vs. iPhone. Retrieved November 21, 2008, from http://blogs.consumerreports.org/electronics/2008/08/applei phone3g.html?resultPageIndex=1&resultIndex=1&searchTerm =Instinct%20vs.%20iPhone
3)Consumer Report (July 16, 2008). IPhone 3G: More Tests, More Findings. Retrieved November 21, 2008, from, http://blogs.consumerreports.org/electronics/2008/07/iphone-3g- more.html?resultPageIndex=1&resultIndex=1&searchTerm=iPhone% 203G%20more%20test%20more%20findings
4)Apple inc. (2006). iTunes (Computer software). Retrieved November 22, 2008, from http://www.apple.com/itunes/download/
5)Consumer Report. (May 7, 2008). PC Tech Support: Apple Shines, say our readers. Retrieved November 22, 2008, from, http://blogs.consumerreports.org/electronics/2008/05/pc-tech-support.html?resultPageIndex=1&resultIndex=1&searchTerm=apple%20support
6)Consumer Report. (July 3, 2007). iPhone, the cell phone. Retrieved November 21, 2008, from, http://blogs.consumerreports.org/electronics/2007/07/iphone-the-cell.html?resultPageIndex=1&resultIndex=3&searchTerm=apple%20warrenty
7)Apple inc. (n.d.) AppleCare Protection Plan – iPhone Retrieved November 21, 2008, from, http://store.apple.com/us/product/MB594LL/A?fnode=MTY1NDA2Mg&mco=MjQzNTc5MQ
8)Matt Richtel. (October 1, 2007) At Starbucks, Songs of Instant Gratification [Electronic Version]. The New York Times.
9)Consumer Report. (January 2007) Nike iPod Sport Kit put to the Test. Retrieved November 21, 2008, from, http://www.consumerreports.org/cro/home-garden/sports-exercise-equipment/nike-plus-ipod-sport-kit-1-07/overview 0107_run_ov_1.htm?resultPageIndex=1&resultIndex=1&searchTerm=iPod%20nike
10)Consumer Report. (May 2008) iPod and Connectivity. Retrieved November 21, 2008, from, http://www.consumerreports.org/cro/electronics-computers/audio-video/audio/car-audio/car-audio-systems/ipod-connectivity/car-audio-systems-ipod-and-connectivity.htm?resultPageIndex=1&resultIndex=1&searchTerm=iPod%20car
11)Apple inc. (n.d.) Car Integration Retrieved November 21, 2008, from, http://www.apple.com/ipod/carintegration/
Eric Zhao
1)http://en.wikipedia.org/wiki/Iphone#Battery
2)http://www.appleinsider.com/articles/07/07/27/iphone_class_action_battery_lawsuit_mass_ac_adapter_failures.html
3)http://discussions.apple.com/thread.jspa?messageID=8402302&#8402302
4)http://www.pcadvisor.co.uk/news/index.cfm?newsid=10896
5)http://content.securityevaluators.com/iphone/
6)http://content.securityevaluators.com/blog/
7)http://gizmodo.com/5042332/huge-iphone-security-flaw-puts-all-private-information-at-risk
8)http://www.nytimes.com/2007/07/23/technology/23iphone.html?_r=2&scp=1&sq=iphone%20security&st=cse
9)http://www.apple.com/support/iphone/service/battery/
10)http://www.calumneilson.com/blog/electronics/how-to-improve-iphone-battery-life/
11)http://www.youtube.com/watch?v=a6YzmNjagjI&feature=channel
Martin Hung
1.http://en.wikipedia.org/wiki/IPhone#Applications
2.http://www.apple.com/ca/iphone/?cid=MKT-OMD-10272008-iphone
3.http://cameras.about.com/od/cameraphonespdas/a/iPhonecamera.htm
4.http://www.testfreaks.com/cellphones/apple-iphone-3g/
5.http://www.engadget.com/2007/08/31/the-2008-iphone-display-sharps-next-gen-multi-touch-lcd-reveal/
6.http://www.apple.com/iphone/specs.html
7.http://www.iphonetopsites.com/iphone-stats/
8.http://en.wikipedia.org/wiki/3G
9.http://www.cbc.ca/consumer/story/2008/06/27/iphone.html
10.http://arstechnica.com/journals/apple.ars/2008/06/18/more-iphone-camera-megapixels-would-be-worse-not-better