ChildrensLiteratureWebGuide
From wiki.ucalgary.ca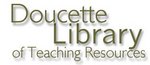 The Children's Literature Web Guide Wiki is a cooperative effort between the Doucette Library of Teaching Resources, David Brown's Children's Literature Web Guide and you. Please feel free to add any quality Children's Literature resources.
THE HISTORY OF THE CHILDREN'S LITERATURE WEBGUIDE
The original Children's Literature WebGuide was origially established as a website hosted by David Brown. The second generation of the Children's Literature Web Guide is this wiki. This wiki will enable users such as yourself to add, change and share information to the site to contribute to the growth and accuracy of the information provided. All information provided is to be provided in good faith with the intended purpose of providing legitimate, quality resources to others in the community in the area of Children's Literature.
HOW TO ADD ITEMS TO THE WEBGUIDE
Users must login to edit pages. Although it can be as simple as adding or changing text, full editing instructions can be read here ...
THE PAGES OF THE CLWG