F08 CPSC203 T08 GROUP 1
From wiki.ucalgary.ca
Our Group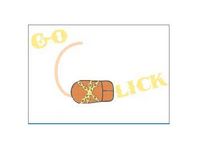 Group Members -
Lindsey Allan
Sadia Hadayat
Jeffrey McKen
Mary Oyebamiji
Our mission
To explore, as a group, the key areas of online shopping, how it has evolved since it's initial development, as well as the beneficial and negative impacts on the society. Our group will also examine questions - refer to the Introduction section - and issues in order to evaluate whether or not the technology is indeed an advantage to society, or if it is more of a risk when compared with the convenience factor. Using this information we also provide a relevant and informed decision about how we as a group, and as individuals, feel about the technology of online shopping.
Introduction
Online shopping is a fairly new technology which allows consumers to purchase items from an online vendor instead of the traditional mall environment. The fact that this development contributes to the technology advancement in the world today is acknowledged. In the final section of our project we will primarily be focusing on the technology and safety issues, which is a very significant issue in the twenty first century's age of technological advancement. Some of common questions raised on the effects of online shopping includes:
♦ Is online shopping safe? What kind of risks do consumers take by putting their credit card information on the internet?
♦ Convienence: Is shopping online truly more convenient than going to the store to get the items you need?
♦ Is the price right? Are consumers being "ripped" off? What other things must be considered in online "pricing"?
History of Online Shopping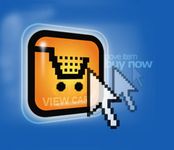 The idea of online shopping was developed before the invention of the Internet, with "real time" transactions being experimented in 1979 but it wasn't until the late 1990's, shortly after the internet was first developed and introduced, that the amount and variety of goods and services available online increased dramatically. This occurred around the same time as the Internet was beginning to gain popularity amongst system users. This created the perfect environment for business vendors to introduce their products to a much larger customer base. The first online store was a book store called "Book Stacks Unlimited" created by Charles Stacks in 1992, just two years before Jeff Bezos began developing online shopping conglomerate Amazon. Online shopping was becoming a popular way for business investors to procure consumer profits, but it came at a price. In 2000/2001, there was the infamous "dot com" crash, which caused upwards to 520 online companies to go bankrupt. This occured in large part due to the way investors threw around their money; and the lack of thought when it came to considering the long term. Most owners invested too much money into getting advertisements aimed to get consumers to notice them. When the crash occurred, businesses did not have enough money to stay afloat, and thus were forced to shut down. However, today's big names in online markets such as eBay (began in 1996; an online site where you buy products from other users) and Amazon (started in 1994, and expanded in 1995; an online site where you purchase products from online retailers) have learnt their lessons and have developed a way of keeping their business above water should another crash occur. These two companies are perhaps the most popular online shopping sites as they cater to everything from clothing and music to furniture and dishes. Since these companies have been around for so long, they also have the considerable advantage of consumer trust and reliability. Online shopping also gave consumers a level of convenience that was never before achievable, until the advent of both e-commerce and the Internet as a whole. Customers are able to shop 24 hours a day, 7 days a week without having to leave their homes or offices, which comes in handy for those with busy schedules, especially around the holidays, when stores are cramped and crowded. Despite the convenience that many people enjoy when ordering products online and having them arrive at their door, there is a very slim chance of online shopping taking over traditional shopping completely. Shopping in actual shopping centres and malls is still a popular leisure activity. Many people enjoy the social interaction of going shopping and the freedom to evaluate, or "touch", the goods they are considering purchasing themselves.
Pros
Online Shopping is used by many people because of the advantages they are provided with. People from different parts of the world believe online shopping saves time, offers them a variety at a probaly lower cost and provides many other benefits to them and the society as a whole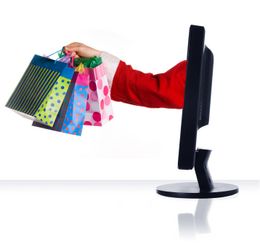 Convenience
Individuals can buy anything and everything from the comfort of their home, office, park etc. They also have the freedom and ability to purchase items they may feel embarrassed to pick out in public or be seen buying. Therefore, online shopping is the perfect solution to meeting the needs of a specific group of individuals. As said earlier, online shopping is available 24 hours, 7 days a week and 365 days a year. People don't have to worry about store hours or rush hours. Online shopping can make it easier for you if you don't have access to the traditional stores. For example, you can look at the products available at Wal-Mart, K-mart, Superstore, Safeway, and so on at the same time. Instead of having to drive from one store to another, purchasing all items and more at one location is cost effective too. This also saves a lot of time for the shopper as there is lots of time to do other things or multitask while shopping online. This new method of shopping is also popular during Christmas for last minute Christmas shopping, and halloween or any other occasional shopping.
Variety
A wider variety of stores available within reach. Individuals who do not have access to certain stores they require benefit from online shopping as the convenience is brought right into their home. For example, there are many small rural towns surrounding larger cities, who do not always have to ability to come into town to make their larger purchases. Therefore it makes life much easier for those who cannot afford the trip or the time to be coming into the city for all their needs.Wider variety of products available. Selection of product is much greater in online shopping than it is store shopping. Sometime the things we're looking for aren't always available to us right away or simply don't meet our standards.
Discount
Prices can be compared easier and much faster and more conveniently which can lead to better prices for the consumers.The shopper can shop and compare before purchasing the products.Discount coupons are available much more readily and are more accessible once the consumer knows where to look. Discounts are not always what they seem, a sale at a local market or mall may seem appealing but more often than not you can find the same stuff online, at say Ebay for even lower prices. The emergence of online shopping has opened many new opportunities both for buyers and for sellers. You can get rid of the old stuff you no longer want while still finding what you require all in the same place and in a shorter span of time.
Benefits to the evniroment


Although this may play a less significcant role when people are deciding whether to shop online or not, it is an issue of great importance to be considered. Today's world has got everyone thinking environmentally. Many businesses are including the "green" factor in their day to day operations to attract a positive crowd. Looking at online retailers, they promote this "going green challenge" by having customers purchase their goods without leaving the comfort of their home. This means less cars on the road to emit deadly gases into the air. They also save lots of money on the paper used for advertisements, receipts or bags. With the use of software, we are assured a positive turn around in the environment. This is one of the reasons environmentalists are very supportive of online shopping since it is more energy efficient.
Cons
The major disadvantages of online shopping that is dicussed in this section are reliability, shipping issues, security and other negative impacts on the society.
Reliability
Since many retailers are motivated by profits it is harder to trust online retailers. The number of e-tailers are increasing rapidly and this gets buyers confused as to which site or company they can rely on for the best quality in terms of the products. As a strategy, many e-tailers resolve to using technology to make their products look better on the website than it is in reality. The customers' trust are left in the hands of the retailers who do not present as many information as possible about the product. People end up buying a good based on how attractive the product looks not on their knowledge of the product.
For those that shop in the traditional mall, they have the opportunity to touch the product, try it on, or ask about it from the customer service provided. This way they have more knowledge about what they are purchasing and less frustration or confusion on the customer's part.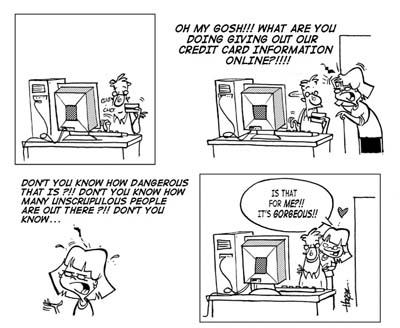 Shipping
It takes about three days to one week or more for a buyer to receive goods he or she bought online, depending on the location the product is being sent from. This eliminates the consumers who needs a particular good urgently. When the good is ofinally delivered, customers are faced with issues like wrong size, wrong colour, signs of wear and tear on the product or the wrong good altogether. This can be really frustrating for the consumers as they are faced with another trouble of returning the good. First, the customer must call the number on the website of the retailer to be aware of their return policy, if is not on the website and the custokmer did not call in before hand. Then the customer must make preparations to repackage the good and send it back to the retailer. In many cases, the retailers do not assume the responsiblility for shipping therefore the customer has to spend their money to cover the cost of shipping. Some people are not ready to got through this trouble therefore deciding to keep the product.
Increased Theft
Once a person has access to another person's credit card or the number it is very hard too track the offender down if the card is used to purchase goods online. When buying in a traditional store, customers are compelled to sign the credit receipts making it easier to track those that steal cards to spend other people's money. This is now common in foreign as well. For example, someone in the United States can by dubious means get a credit card or number, use it to shop online till the owners uses theh initiative of cancelling the card. In a matter of days, it is possible for theh offender to have spent every dime on that card. Just using the card to pay online can also allow others access to personal information about the card owner if the right precautions are ignored.
Security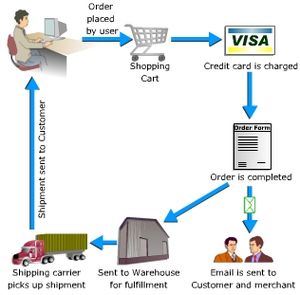 The e-commerce industry has expanded distribution gateways for the producer, given the consumer more products that were not before available in their area and many more opportunities. Shopping online can, however, present risks to both the consumer and the retailer. The payment transaction is where most if not all the risk of shopping online can happen. Different retailers accept different types of payment for goods and services online. Credit cards(AMEX, MC, VISA) are the most common, as they are the easiest methods of payment although other forms of payment such as: debit withdrawal, money orders, and other indirect forms of payment are sometimes accepted. Almost 14% of all credit card fraud is involved with online transactions[11]. In the case that credit card fraud does occur, the buyer is not usually liable according to the Fair Credit Billing Act, putting the liability on the credit card service and the retailer[10]. Although you might not be directly liable for fraudulent charges it can be a lengthy process to get your claim and the thieves may have gotten more of your personal information that just your financial information. As for preventing and enhancing your online security, there are a few measures that should be followed. First of all, know your merchant. Get their head office telephone number, address and look it up to make sure it exists[13]. Make sure that you choose a password that is not directly revealing about yourself, such as birth date, address, or name. Use a combination of letters, symbols and numbers to make the password more complex and harder to guess[12]. check and see if the merchant is a member of the better business bureau and read followups on other consumers' retail experience. Check and see if the website has been given a security seal of approval, which they would have to qualify among rigorous security standards[15]. Check to see the encryption standard that your browser is using and make sure that it is up to date. Your browser should be using security standards such as Secure Sockets Layer (SSL) or Secure Electronic Transaction (SET). These technologies encrypt the financial purchase information. A safe and compliant website will show a symbol of an unbroken key, a picture of a closed lock, or a Web address that begins with "https"[10]. There are many precautions that can be taken when dealing with online transactions. Nobody can never be fully safe from online fraud. Using major credit cards does alleviate the liability from the consumer although it can be troublesome if fraud does occur. The most important tactic against online fraud and security is common sense and awareness.
Impacts on the society
As the number of online shops increases today, there is a increase in rate of umemployment. These events are related because with online shopping, businesses have to hire very few workers to run the company. The demand for labour reduces as technology takes over the whole process. All the business needs is people to maintain their site, the warehouse and the shipping process. This means less jobs for teenagers who want to work in the mall or at a local store for instance. A lot of teenagers being idle leads to reckless behaviour and possibly increase in thefts. Therefore being beneficial to the environment does not mean being beneficial economically.
Other Technology Issues
Human Computer Interaction
E-tailers (sellers who set up an online store) have to put the consumer in mind as they design their website. For the most reason, consumers have to be able to navigate through pages quite easily in order to get what they would like to purchase. Customers who end up sitting on the computer for hours looking for a particular product will probably end up not making a purchase which is a great loss to the company as well. The search engines used on the website should take the customers directly to what they want to see. Too much information can lead to consumers being confused and frustrated.
Information visualization

Electronic commerce noted among programmers and computer industry professionals because it so firmly links the merchant and consumer through a blend of communication, security and technology. The development of online shopping has been created in most part by the expansion of the www(world wide web) and its expanding interactive elements. The Web removes some barriers to interaction between buyer and seller.The Web is provides a completely different interaction between the customer and merchant that is far different from traditional mass media and distribution channels that retailers have relied upon. One of the most important elements to online commerce is that it puts the power and decisions directly on the consumer allowing them to control the communication process[17]. This new experience has provided a lot of benefits to the consumer rather than just in the communication process. The interaction between the consumer and the product has also advanced. Through online retailing, merchants are able to display the product to a way greater range of consumers than it physically could in a store setting. For example with Apple Inc. Itunes, consumers are able to listen to a sample of a song or an album before purchase, putting more power in the decisions of the consumers.
Recent Changes
One of the most recent changes is the rate at which online retailers and buyer are increasing. Many people consider the new texhnology to be very beneficial. The increase in the number of people buying online has also attracted many people to the business. The profit gained by the owners are quite large nowadays.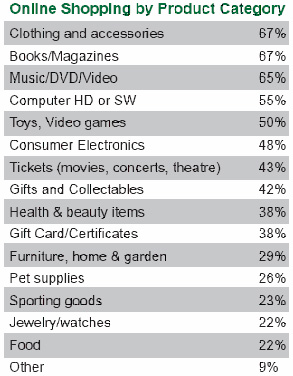 The technology has also improved as many business introduce new concepts in order to remain competitive. New methods are now being introduced to reduce the risks of online shopping. The "Bill me later Service" for example is now being used by many online stores like Amason, eBay, MyMusicc .com and more. This service allows consumers to shop online without paying instantly with their credit card. A bill is sent to the buyer after purchase is made so that consumers can pay with their online debit banking account which is considered to be more safe. In some ways it is definitely better, but this new service will raise costs for e-tailers. In other words, the consumers should expect to pay more for any good bought from an online store that provides this service.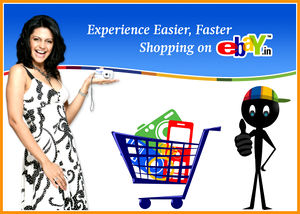 The rate at which sellers are using online adversitisement is also increasing rapidly. This is iwhat seems to have the most effect on the consumers. With online shopping different business from several parts of the world are now able to tardget different markets through online advertising. They create the impression that shopping online is the fastest and easiest way of buying goods from halfway around the world.
Conclusion
The main dilemma consumers face deals with the convenience provided versus the security issues that are tied with online shopping. Although, overall, online shopping tends to be a very good invention in the society as it involves development in the technology, the drawbacks have more impact on the society than the benefits. The future sees more developments in technology therefore we forsee even more increase in online shopping. Studies have shown that this only increases consumer shopping not happiness as many will not be satisfied with their purchase. The technology behind online shopping needs to be reviewed effectively before we can minimize these adverse effects. The advancements in technology is very good for the society but sloe and gradual expansion needs to be considered. With all these disadvantages, we see the need to keep the traditional malls going by limiting the growth rate of online shopping.
References
SADIA HADAYAT

1.Consumer Reports. (November 19 2008) Consumer Reports: Online Retailers Better Than Walk-In Stores for Electronics Shopping. http://www.earthtimes.org/articles/show/news_press_release,189445.shtml
2.CTV. (November 17 2008) Online shopping jumps 61% in two years: StatsCan. http://toronto.ctv.ca/servlet/an/local/CTVNews/20081117/Internet_shopping_081117/20081117/?hub=TorontoNewHome
3.Eopinions. (November 19 2008) Buying Online Has Its Pros and Cons. http://www.epinions.com/content_1972609156
4.Hsaio, Aron. (November 19 2008) What is eBay? An introduction to the World's Online Marketplace http://ebay.about.com/od/gettingstarted/a/gs_whatisebay.htm
5.Maranjian, Selena.( November 19 2008) Everyone's Shopping Online for Good Reason. http://www.lawcrossing.com/article/index.php?id=1264
6.OnGuardonline. (November 10 2008) Online Shopping. http://www.onguardonline.gov/topics/online-shopping.aspx
7.Privacy Rights Clearance. (November 18 2008) Online Shopping Tips: E-Commerce and You. http://www.privacyrights.org/fs/fs23-shopping.htm
8.Stathopoulos, Gina. (November 7 2008) 10 Tips To Safe Online Shopping. http://www.statssheet.com/articles/article7322.html
9.The Economist. (November 17 2008) The three survivors http://www.economist.com/business/displayStory.cfm?source=hptextfeature&story_id=11580247
10.University of Iowa. (November 19 2008) Online Shopping and Security. http://www.extension.iastate.edu/Publications/PM1789G.pdf

JEFFREY MCKEN

11.Foxglove Media Ltd. (November 16, 2008) How safe is it to shop online?. http://www.tinhat.com/online_shopping/how_safe.html
12.Bell Canada. (November 20, 2008) Tips for Shopping & Banking. http://service.sympatico.ca/index.cfm?method=content.view&content_id=11950
13.Fédération des caisses Desjardins du Québec. (November 22, 2008) Online Shopping. http://www.desjardins.com/en/a_propos/profil/securite_en_ligne/conseils/achat_en_ligne.jsp
14.Canadian Bankers Association. (November 17, 2008) Protecting yourself when shopping online : security on the World Wide Web. http://www.nbc.ca/bnc/cda/productfamilymc/0,6326,divId-2_langId-1_navCode-16026,00.html
15.Microsoft Corporation. (November 22, 2008)How to shop online more safely. http://www.microsoft.com/protect/yourself/finances/shopping_us.mspx
16.Danny Bradbury. (November 18, 2008) Is online shopping ever secure? http://www.guardian.co.uk/technology/2008/apr/10/ecommerce.hacking
17.Stuart L. Esrock. (November 21, 2008) Online Shopping: To Buy or not to Buy. http://www.acjournal.org/holdings/vol2/Iss3/articles/Online_Shopping.htm
18.Encyclopædia Britannica(November 26, 2008) Amazon.com. http://search.eb.com/eb/article-9438590
19.Encyclopædia Britannica(November 26, 2008) E-Commerce. http://search.eb.com/eb/article-234834
20.Encyclopædia Britannica(November 26, 2008) Computer Security and Crime. http://search.eb.com/eb/article-234832
LINDSEY ALLAN

21. Ken Austin (November 17, 2008) Pros and Cons of Internet Shopping http://ezinearticles.com/?Pros-and-Cons-of-Internet-Shopping&id=13293
22. Manali Oak (November 17, 2008) Ethical Issues of Internet Privacy http://www.buzzle.com/articles/ethical-issues-of-internet-privacy.html
23. The Rambler (November 17, 2008) 7 Reasons Why Shopping Online Beats Regular Shopping http://rich-page.com/web-analytics/7-reasons-why-shopping-online-beats-real-shopping/
24. Zyra[dot]org (November 17, 2008) Buying Online. Is it SAFE? What are the Dangers of Buying Online? http://www.zyra.org.uk/buysafe.htm
25. Review Centre (November 17, 2008) Buying Online FAQ Guide from Review Centre http://www.reviewcentre.com/faq191.html
26. Rachael Sanchez (November 17, 2008) Shopping Online or still shopping in stores? http://www.ocf.berkeley.edu/~rls/
27. Nancy Wurtzel (November 17, 2008) How to Buy Online Safely. http://www.sideroad.com/Budgeting/buy-online-safely.html
28. Naman Jain (November 17, 2008) Some Important Advantages of Advertising Online. http://ezinearticles.com/?Some-Important-Advantages-Of-Advertising-Online&id=1154167
29. Business Software Alliance (December 2, 2008) Internet Security Threats Will Affect U.S. Consumers' Holiday Shopping Online. http://www.bsacybersafety.com/news/2005-Holiday-Online-Shopping.cfm
30. Internet Retailer (November 25, 2008) Negative Online Expierence Poses Risk to Retailer's Brands, Survey Says. http://www.internetretailer.com/internet/marketing-conference/07238-negative-online-experience-poses-risk-retailers-brands-survey-say.html

MARY OYEBAMIJI

31. Nielsen Business Media, Inc. (November 13, 2008) ADWEEK 30. Study: More Consumers Shop Online. http://www.adweek.com/aw/content_display/news/agency/e3i801c554d7b26ab10c704edd47fd56247
32. ABC Article Directory™. (November 25, 2008)ABC Article Directory: eBay Selling and Fraud. http://www.abcarticledirectory.com/Article/eBay-Selling-and-Fraud/133441
33. Asoociated Content Inc. (November 25, 2008)10 pros and cons about holiday online shopping. http://www.associatedcontent.com/article/450246/10_pros_and_cons_about_online_holiday.html
34. Jürgen Koenemann and Markus Stolze. (November 27, 2008) CHI 99 SIG: User Interfaces for Electronic Product Catalogs. http://bulletin.sigchi.org/1999/october/pdf/october/koenemann?searchterm=online+shopping
35. Council of Better Business Bureaus, Inc. (November 27, 2008) Shopping Safely Online. http://www.bbb.org/alerts/article.asp?ID=435
36. Sarah Schmidt, Canwest News Service (November 27, 2008) Identity theft plagues Canadians as online shopping grows. http://www.canada.com/saskatoonstarphoenix/technology/story.html?id=b7f81191-421a-48f5-abc3-8b156c8f6fc2
37. John Morrissy, Canwest News Service (November 27, 2008). Online shopping surges to $12.8B in 2007. http://www.canada.com/saskatoonstarphoenix/story.html?id=3eb9de6c-3ca9-48de-9994-d2a7bec19b0f
38. PCMAG.com (November 28, 2008) Who's E-Shopping. http://www.pcmag.com/article2/0,2817,482091,00.asp
39. PCMAG.com (November 28, 2008) E-Commerce Fraud on the Rise. http://www.pcmag.com/article2/0,2817,2216470,00.asp
40. ECT News Network Inc. (November 28, 2008) Tech News World: The Ultimate Online Shopping Experience, Part 2: Features and Functionality. http://www.technewsworld.com/story/64862.html