T16 Group5
From wiki.ucalgary.ca
Group Information
Group Members
Heidi Koot, Reilly Lepage, Paige Pinder
Initial Project Statement
The topic of social responsibility in the gaming industry is on everyone's minds in the light of increased media coverage of the sad consequences of gaming addictions. Considering the timely nature of this topic, it is important to examine how the gaming industry can and is taking action in response to and anticipation of the social impacts of their products.
Research Question: How have software companies responded to the various criticisms of their products, particularly videogames?
Thesis: Software companies have both acknowledged responsibility for the social impacts of their products and have begun to take steps to contribute to the quality of life of their users.
Methodology and Introduction
Methodology
Rather than taking a problem-oriented an ineffective approach, our research is based upon the theory of Appreciative Inquiry. We have used a case study approach to identify a number of examples of how the gaming industry is taking account of its social responsibility in regard to its products.
Appreciative Inquiry
Appreciative Inquiry is a strategy anyone can use in any circumstance to find successful and solution-oriented approaches to a problem. The most basic philosophy of appreciative inquiry is that change comes from understanding what is working and building from that. David Cooperrider and Diana Whitney in their book A Positive Revolution in Change: Appreciative Inquiry explain that. "in AI [Appreciative Inquiry] the arduous task of intervention gives way to the speed of imagination and innovation; instead of negation, criticism, and spiraling diagnosis, there is discovery, dream, and design."

Introduction
This project takes a case study approach to the consequences of the prevalence of video games in society. Each of the case studies highlights a positive response of the gaming industry in popular culture. It is important to understand that the consequences of some video games can be very serious. There are links between videogames and violent behaviour as well as serious addictions to gaming (American Psychiatric Association). The gaming industry has to be an important player in combating these problems. The case studies we have provided give examples of the types of responses from the gaming industry which can help to minimize and solve these problems.
Case studies: ● Brain Age ● Nintendo Wii (Wii fit) ● Microsoft and Brandon Crisp
History
The gaming industry began in 1971, growing in popularity by the late 70s and early 80s. It has boomed within the last two decades to become a 10 billion dollar industry. Studies prove that in American, people spend more time gaming then they do watching TV or Motion pictures. With such a popular and large market, producers are in high demand to make the latest games consoles and games for consumer satisfaction. http://en.wikipedia.org/wiki/History_of_video_games It has been suspected that gaming can have a negative impact on us, even if we do not realize it. For instance with violent video games, it is predicted that it can make children who play them more violent as well. There are three reasons for this "(1) the games are highly engaging and interactive, (2) the games reward violent behavior, and because (3) children repeat these behaviors over and over as they play (Gentile & Anderson, 2003)" (http://www.psychologymatters.org/videogames.html). There are many studies that show the negative effects on children from TV and movies, but since Games are newer there are less studies. It can however be suspected true because gaming is now more popular then TV and Movies as entertainment for children. If we take these reasons and apply them to educational and active games such a WII fit and Brain age, it is shown how games can have a positive effect as well.
Brain Age
Brain age is a game you can purchase for Nintendo DS which stimulates your brain, giving it fun and even competitive exercises. Using math, memory work, spelling, and even music, Brain age gives you an easy, portable mental workout. Brain age tracks your daily work outs so you can actively see your progression and improvements.
               

Brain Age was adapted from the research of Professor Ryuta Kawashima, a renowned Japanese neuroscientist. His studies evaluated the impact of performing certain reading and mathematic exercises to help stimulate the brain.The focus of the game's educational aspect is that the games are designed to activate your prefrontal cortex, which is the part of the brain that controls how you apply what you know. The theory is that by flexing this part of your dome with basic math problems and memorization, you can sharpen your intelligence. The Brain age is an educational but also fun option to the other video games there are out there. When most video games are said to have negative impacts on a childs brain, brain age steps out of the mold to give another option to concerned parents. http://www.brainage.com/launch/index.jsp http://en.wikipedia.org/wiki/Brain_Age http://www.gamespot.com/ds/puzzle/brainagetrainyourbraininminutesaday/review.html http://ds.ign.com/articles/702/702057p1.html http://www.metacritic.com/games/platforms/ds/brain age Studies show that blood flow to the brain is decreased in general while playing video games, and that violent games "exacerbate this effect." The parts of the brain that control l thinking, speaking, decision-making, impulse control, and emotional behavior are all negatively effected by playing video games. With all these studies popping up everywhere, gaming companies face a lot of harsh criticism. The question of social responsibility is always in effect. Companies have been smart to make educational games because it shows that they do care about there clients health and ultimate well being. At least it looks that way to the general public.
The Nintendo Wii:
Social Aspects:Through out the history of Video Games many believe gaming to be damaging to ones intelligence, physical fitness and social skills. However, in recent years new ideas and new technology regarding this opinion have been presented. There have been recent developments and creations of games that stimulate brain activity and others that promote physical fitness. The leading gaming system in this area is the Nintendo Wii. The creators of the Wii have designed games and technology (Wii Fit) that are meant to provide physical interaction that supports physical fitness. While many people may be motivated to work-out with their Wii and Wii Fit games it cant be relied on for a complete quality and beneficial work-out. (http://www.argusleader.com/article/20081122/LIFE/811220332/1052/OPINION01 , Janna Farley, The Argus Leader, 22/11/2008)In the end it is still a video game and cannot live up fully to yoga classes and real-life trainers. Although this new technology has cause most of these opinions to become irrelevant, social skills would still seem to be at risk. The gym, yoga classes, sports, and similar activities are great ways to interact with people and meet new people. Many are reluctant to join a gym or any one of these activities; however, once the initial fear and shyness is overcome the benefits of interacting with people are great. Now that video games provide a way to avoid such activities people do not feel the need to overcome their fear of social interaction. The advancement of this type of gaming technology seems to only damage the social aspects of a person's life, which is in no way beneficial.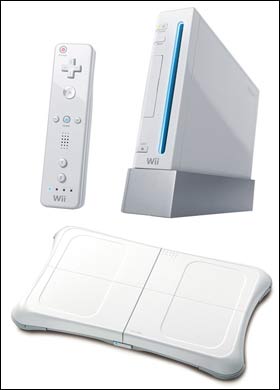 Technical Aspects:The Wii has a sensor bar that allows the console to recognize the movements of the user through built in infrared detection in the remote. The motions of the user are recognized causing the characters in the game to react the same way. The Wii fit also comes with a board on which the gamer stands allowing the console to recognize movements and shifts in weight and position. The board is able to measure the persons body mass index, center of balance, and body control. The Wii and games such as Wii Fit have used new technology such as this to create a brand new original gaming experience. Nintendo has kept technical specs, and development processes closely guard, understandable being that they have created something new to offer the market of gaming. Not only does Nintendo contribute to the game programming process, but there are many other companies that only produce games and not consoles or systems.

The game programming process begins with the idea to base the game upon, and then the company developing the game and then a publisher must approve this idea. They must create a proposal that outlines major game concepts, details and fundamentals. The game must go through many rough sketches and prototype creations to show investors. Once this step is complete programmers being to write source code and artists create animations. The game programming process also includes writers creating the stories and level designers working on the different levels to make them appealing to the masses. While the game is being produced there are video game testers that demo the games to catch glitches and inconsistencies during gameplay. [game programming information from: (Salen, Katie; Eric Zimmerman (2003). Rules of Play: Game Design Fundamentals. The MIT Press. ISBN 978-0-262-24045-1)]
Microsoft and the Brandon Crisp Story
Brandon's Story: An example of the tragic consequences of video game addiction but also of the response of the gaming industry, Brandon Crisp's story is important to consider. On Thanksgiving day (13 October, 2008), 15 year old Brandon Crisp left his parent's home on his bike after an argument about the game Call of Duty 4: Modern Warfare (Campbell, 2008). Tragically Brandon was found dead on Wednesday 5 November, 2008 (Alliston Herald). Brandon left home after his parents abruptly took away his Xbox, over their concerns about his use of the Microsoft Xbox Live service, where he could play the Call of Duty 4 game with other users (Campbell, 2008). Brandon was once a AAA hockey goalie, but judged too small to keep up in the game, he found respect and success in the online video game world. For Brandon it was more than a game because he could have a future making money playing in professional tournaments. His father admitted "When I took his Xbox away, I took away his identity" (ibid).
Microsoft Responds:
"I spoke to the president (Microsoft) personally last night and he assured me they're doing everything in their power to make this happen right away. I'd like to thank Microsoft for all the support." (Brandon's Father, Steve Crisp, 25 October, 2008)
After hearing Steve Crisp's pleas for help on national television a Microsoft representative contacted the authorities to assist in the investigation (Torstar News Network, 2008). Microsoft immediately began cooperating with police so that they could find the users that Brandon was interacting with through the Xbox Live service (ibid). Also Microsoft matched the reward for information regarding Brandon's whereabouts, bringing it to $50, 000 (ibid). These actions could be seen a clever public relations moves on Microsoft's part. However, considering the timely cooperation and direct contact with Crisp family, Microsoft has taken a sincere interest in the social consequences of the use of its products. Microsoft acknowledged through these actions that it played a role in Brandon's situation. Microsoft has taken responsibility for its role in this tragedy and time will tell if the corporation will take further steps to protect its users.
It is important to note that parents, individuals and retailers among others must work together to ensure the safety of video game users. In cases of addictive substances such as alcohol and tobacco which are legal, parents, individuals and retailers share the responsibility of making sure that these products are not abused by minors. When tragedies do happen, alcohol and tobacco companies are not expected to take responsibility. Videogames which are meant for adults (Call of Duty for is Rated "M" for mature, meaning over 18) can be consider among such products. Microsoft's actions show their dedication to the wellbeing of their customers.
Conclusion
Videogames have become one of, if not the most, prevalent forms of popular culture media today. In the advent of this popularity, videogames have also been widely criticized for encouraging violence and their addictive nature. By examining three case studies of the gaming industry's responses in the field of popular culture, we have shown that video games can promote healthy bodies and brains through meaningful interaction. We have also shown that that gaming industry has accepted and taken responsibility for its role in the sometimes tragic consequences of video game addiction.
References
Appreciative Inquiry:
Appreciative Inquiry Commons (November 12, 2008).http://appreciativeinquiry.case.edu/
Brandon Crisp:
Campbell, Colin and Gatehouse, Jonathon. (2008). What Happened to Brandon? Macleans, Nov. 10, 08. pp. 50-53.
Herald Staff. (2008). Body of Brandon Crisp Found. (November 17, 2008). http://www.allistonherald.com/allistonherald/article/121357
Torstar News Network (2008). Microsoft Doubles Reward To Find Brandon. (November 17, 2008). http://www.allistonherald.com/barrie_advance/article/120307
Links between video games and violence; video game addiction:
American Psychiatric Associetion (November 12, 2008). http://www.psych.org/MainMenu/Newsroom/NewsReleases/2007NewsReleases/07-47videogameaddiction_2_.aspx