T16 Group6
From wiki.ucalgary.ca
The War between TV and Online Videos
Team Members
Rebecca Skinner
Daniel Forstell
Jennifer Taylor
Project Statement
Our group decided to explore the technology and issues surrounding free internet T.V. websites and how they are leading to the inevitable downfall of conventional Television use. These websites are not strictly for regular 'cable' television shows, but they also display millions of uploaded videos from a variety of consumers around the world. This technology allows for un-aired shows to be recognized by the public, and therefore it is easier for prospective producers, directors, actors and comedians to gain popularity. Thus, more independent television shows are becoming popular, and mainstream shows are losing popularity causing the rise of internet television and fall of cable television. This rise and fall leads to advertisers spending increasing money on internet and decreasing money on television corporations. This gain in funds for internet television allows these websites to provide a better service to the users. Some of these websites are strictly open to people uploading videos and do not broadcast full episodes of T.V. shows. Other websites contain full episodes of various TV shows as well as uploaded videos. Most of these websites index links to various places that display both uploaded videos and TV shows. We will explain the technology behind these different websites as well as explaining how these websites are a huge opportunity for the advertizing market. We will study the different aspects of advertising on these websites as well as the issues and concerns that people may face when using these web sites including privacy issues, legal agreements and explicit content being open to children.
Website Technology
How Streaming Media Works
Streaming media is a fast, efficient way of delivering information across a network. Streaming media is often referred to as Live Streaming, but this is in fact only one type of Streaming Media. Live Streaming is when information is sent at the same time as an event, such as a football game. A provider, such as a website, must save this file onto a streaming server, which is primarily distinguished from a regular web server by it's software. Right now a major streaming server is the Darwin Streaming Server which is used by Youtube, and is open source, meaning that it's code is available to the public.
Packets
Once the file is saved, it is cut into pieces, or packets. Each packet is approximately 1 KB and consists of three major parts; the header, the payload, and the footer. The header and footer contain information that the network needs in order to make the transfer. Things such as source and destination IP addresses, which ensure the packet reaches you, and sequencing information, which ensures that the packets arrive in order is all part of this information that a header and footer contain. The payload contains the video or audio file, or at least a small portion of it. This cutting of a file into pieces is referred to a Packet Switching.
Protocols
The two main streaming protocols are the User Datagram Protocol (UDP) and the Transmission Control Protocol (TCP). Other protocols, such as the Real Time Streaming Protocol (RTSP) and the Microsoft Media Services (MMS) add functionality, such as stop and play, on top of the UDP and TCP, and are usually designed around a specific media player. These protocols are designed to receive your request, send the information, and manage this transfer by sending duplicates if necessary. The main difference between UDP and TCP is that with the UDP each packet is sent individually which allows a user of UDP to jump forward in a file as the stream can be stopped and started easily in different portions of the file, whereas the TCP transfers packets continuously, so there is nothing to distinguish one packet from another. These protocols are methods of creating and sending a stream of information. Routing is the process of selecting a path for this stream through intermediate nodes.
Routing Schemes
For streaming media there are two main routing schemes, unicast and multicast.
Unicast

Unicast is the transfer of the file from the server to an individual user. The problem with this is that for each new user the file must be sent again, possibly slowing down the rate of transfer, or bit-rate.
Multicast

A Multicast assigns an IP address to the stream itself, forming a cloud, of sorts. All users are grabbing bits of information (packets) from this cloud. If replication is needed, two users are grabbing for the same packet at the same time, the user currently using that packet automatically replicates the packet and sends it back to the cloud. Multicasting is the most common delivery method because it is the most efficient, the serve send the file only once. Once the information has reached your computer it must be buffered.
Buffering
Buffering is when information, a part of the stream, is saved to avoid frame rate problems. This information is saved in RAM or a temporary file the media player creates for the stream. This allows for smoother playback of the file.
Issues surrounding these websites
Advertisement
Internet television is now being considered a "Gold Rush" of advertising opportunities with figures showing that internet television advertising revenue will equal 18 percent of all Internet advertising by 2011 this being anywhere between $6 billion to $10 Billion. This increase is attributed to the overall amount of how popular these websites are becoming.
24.9 billion video streams were served in 2006 (Accustream, March 2007)
Online video has reached critical mass (Jupiter 2006)
66% of US consumers view online video at least once a week (Advertising.com, Insight Express 2007)
31% of video ad viewers checked out the advertisers' web site (Online Publishers Association 2006)
Active Internet video users are streaming an average of 55 videos per month.
It is estimated that 10% of television will soon be watched online. For example the average viewer watches 25 hours per week which means 2.5 of those hours will be online.
Not only is internet TV viewing increasing, but regular television usage is decreasing.
Nineteen per cent of people stated spending six hours or more per day on personal internet usage versus nine percent of respondents who reported the same levels of TV viewing.
In the UK the TV advertising market fell 4.7% in 2006.
In the UK, nearly a third of users who watch mobile TV reduced their standard TV set viewing patterns as a result of new mobile device services. 18% said they reduced "normal" television usage.
Several surveys have found that heavy Internet users say their time on line eats into their television viewing more than any other activity.
There are a lot of different ways advertising is used on these websites. On websites such as YouTube large corporations are responding to the hundreds of millions of videos being viewed daily and using it to their benefit. For example, 'What Do You Have To Say?' by HP was a large ad campaign used on YouTube as a contest for the millions of users to participate in. This type of large scale advertisement is very popular on these websites, but small ads are used as well.
On MegaVideo.com consumers who have their own websites can benefit from advertising. In order to participate in this people have to designate advertising space on their website, include megavideos HTML snippet, and decide which formats (banners, text ads, popunders) they would like to support. People don't have to sell their ad space themselves either, they simply have to put a text link "buy this ad space" on their website to attract advertisers, and their site will be listed free of charge on Megaclick's marketplace. Users can also set their own pricing for these ads. The main benefit of this type of advertising is that users receive 100% of the advertiser's spending; Megaclick's service is free of charge.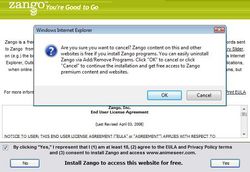 Another usage of advertising is to only allow access to an Internet TV website if the consumer signs up to receive advertisements from another website. For example FreeTVonline.com is sponsored by Zango. In order to gain access to free TV, consumers must sign up for Zango, which gives them FREE access to premium content, paid for by advertising. Based on keywords generated by consumers browsing, Zango shows ads in a separate browser window or a temporary Slider, and toolbar search suggestions. ShopperReports provides comparison shopping offers in a Sidebar. Both run continuously and update automatically. This is another large advertisement opportunity for businesses.
One last easy way for companies to advertise is to simply create a link to buy the full season of the show you are watching. These links will go to either Amazon.com, iTunes.com or various websites that sell popular TV shows or Videos online. This is a simple and effective way to advertise on these websites, and one that companies are taking advantage of.
Privacy Issues
When watching videos online, you may think that your information is kept secret, as most of the time there are no forms or boxes that you have to fill out, however, that is often not the case. When a user visits an online video site their non-personal information, such as their IP address, is automatically recorded. This is so that if at any point the website wants to track you down, they have the authority and the ability to do so. This non-personal information is also transferred to any third party websites that help in showing the video. For example, if you were to visit the website SideReel and later be taken to the MegaVideo site to actually view a show, MegaVideo now has your IP address stored in their system as well. This can become a concern when these third party websites don't share the same privacy policies as the websites you originally visited. If MegaVideo does not have the same privacy policies as SideReel, your computer may be open to potential threats. Secondly there is the question of your personal information. At times a website may ask for you to fill in your full name, e-mail address or even your home address to subscribe to some special service they offer. Most of them state that they will not "intentionally" disclose this information but it does happen from time to time. This is why it is a good idea to avoid submitting any personal information unless deemed completely necessary. Accidental slip-ups and altered privacy policies make the world of online video more complicated than one might think.
Legal Agreements
The majority of online video sites do not actually host the videos but instead index links to other pages. You may notice this when visiting a website such as sidereel, the videos you watch from there are not normally through a sidereel window but instead display the name Megavideo or Yoku. Still, these video sites apply many legal documents and binding agreements to prevent their users from re-distributing any of this work. Each individual site has it's own Terms of Service which basically state the rules and regulations. Although it differs from site to site, the main ideas are that users must agree not to copy and re-distribute any works nor may they break any of the privacy laws. If there is proof of this happening, the website has the authority to track your information and serious penalities may be inflicted. Also connected to this are the copyright agents who are present for all of the different websites. These copyright agents represent the national copyright laws and ensure that thee websites information is up to date, as well as they deal with any claims of infringment from other users. They are there to ensure that no illegal activity is taking place which allows the website to run smoothly.
Explicit Content
Anyone has access to these video websites and you can find them with the click of a button. As a lot of them include uploading your own material, some of the content displayed can be a bit graphic. Under nearly every website's "Terms of Service" they state that unlawful, threatening or racially offensive material cannot be displayed yet there are millions of these types of posts out there. This is because with the amount of videos uploaded on the web it is hard to keep track of them all, and while some are removed when found out, many remain for everyone to see, which brings us to our next point. With satellite TV and many cable TV options these days, parents are able to put locks on certain channels so that their kids can't watch these types of shows. When it comes to the internet everything is easily accessible. Many of the websites state a minimum age for users but this is not enforced. A lot of the time you don't have to submit any proof at all, or else it is easy enough to enter a fake birthdate into the text box. This means that this explicit content is left on the web for people of all ages to see, and that's not a very reassuring thought. It is one of the major issues facing these types of websites today and stricter rules are trying to be enforced.
Conclusion
Future of Internet Television
Much of Internet television content has been short form and user generated, which has been a revolution in itself, but demand for high quality content is growing. This demand means websites will create increased viewing time, more engaged viewers, and therefore a bigger opportunity for advertisers. "Internet TV will challenge the traditional broadcast industry through rights distribution, on-demand content versus linear broadcast and the generation of advertising revenues," says Alison Casey, Business Director at Understanding & Solutions. The main importance is that, despite initial concerns over copyrighted material being uploaded to websites such as YouTube, networkers, broadcasters and producers alike are now hustling to move their content online- and this is just the begining.
Refrences
Rebecca
http://freetvonline.com/Visitors.php?Sections=Video_On_Demand&Parent=45218
http://www.megaclick.com/?c=howitworks
http://www.youtube.com/advertise
http://www.youtube.com/watch?v=UBc8TiVFTzw&feature=PlayList&p=112C3BE6B8EC7FF2&index=1
http://likevid.com/termsofuse.php
http://brandstrategy.wordpress.com/2007/08/22/the-decline-of-tv-and-rise-of-the-internet-ibm-global-consumer-research/
http://query.nytimes.com/gst/fullpage.html?res=950CE2DF1330F932A1575AC0A96E958260
http://www.imediaconnection.com/content/8035.asp
http://www.narrowstep.com/advertisers/internet-tv-advertising-opportunity.aspx
http://www.bizreport.com/2007/08/gold_rush_ahead_for_internet_tv_advertising.html
Jennifer
Daniel
http://www.mediacollege.com/video/streaming/overview.html
http://en.wikipedia.org/wiki/Streaming_media
http://searchunifiedcommunications.techtarget.com/sDefinition/0,,sid186_gci213055,00.html
http://www.microsoft.com/windows/windowsmedia/compare/webservvstreamserv.aspx
http://developer.apple.com/opensource/server/streaming/index.html
http://searchsoa.techtarget.com/sDefinition/0,,sid26_gci214157,00.html
http://www.faqs.org/rfcs/rfc793.html
http://searchNetworking.techtarget.com/loginMembersOnly/1,289498,sid7_gci213249,00.html?NextURL=http%3A//searchnetworking.techtarget.com/sDefinition/0%2C%2Csid7_gci213249%2C00.html&referrer=SEO_MO%7Cwww.google.ca_WD_213249
http://www.wisegeek.com/what-is-multicast.htm
http://searchCIO-Midmarket.techtarget.com/loginMembersOnly/1,289498,sid183_gci211713,00.html?NextURL=http%3A//searchcio-midmarket.techtarget.com/sDefinition/0%2C%2Csid183_gci211713%2C00.html&referrer=SEO_MO%7Cwww.google.ca_WD_211713