IntroToWikis
From wiki.ucalgary.ca
Wikis
What is a wiki?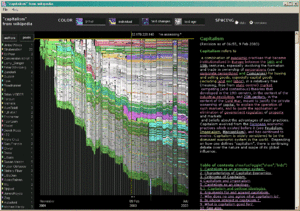 wiki is an abbreviation for the Hawaiian word "wiki wiki" - meaning "quick"
an open, collaborative website that allows anyone to add and edit pages
software that tracks changes, making it easier to repair damage than to cause it
an organic encyclopedia of knowledge, such as the wikipedia - which now has over 1 million pages contribute by people around the world
typically, uses special "wiki syntax" so you don't need to know HTML to edit content
a rich network of links between content
a direct descendent of the original hypertext model of the internet (and the early world wide web)
What good is a wiki?
Where can I wiki?
Wiki Software